'Batman' Breaks Record After Eating Chipotle for 500 Days Straight
Not the hero we asked for, but the hero we deserve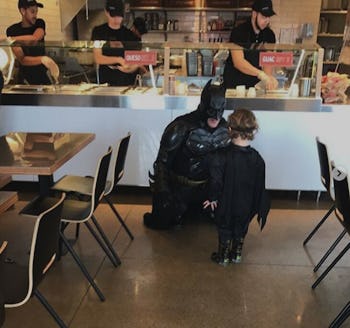 Instagram
While Tommy Wiseau is quickly turning into a real-life Joker, another Batman has entered the scene. But this Dark Knight is after one thing: burritos.
Clad in his signature leather batsuit, Bruce Wayne – yes, that's his legal name – received his 500th consecutive Chipotle meal on Wednesday. The auspicious day has solidified his place in world records and made him a hero with the American fast casual restaurant chain.
Prior to accepting this challenge, the record for most consecutive Chipotle meals clocked in at 425 orders, but the Caped Crusader flew past that number on December 30. The last 75 meals were more of a victory lap, one which he describes as "an amazing journey."
Batman's path to victory made him a celebrity at the local Chipotle in Tiffin, Ohio. Wayne is known for wearing his batsuit around town and attends children's events dressed as his alter ego. "I always said that I would finish the challenge as I started it, and that's in the batsuit," he told his local paper The Courier.
But with 500 meals behind him, Batman is ready to hang up his cape and take on a new challenge. On Tuesday, he took to Instagram to remind fans that his latest victory does not mean the work is over. "It isn't just the end of one adventure; it's the start of a new one."
Batman's career as a burrito assassin is garnering him international fame, and Chipotle, a chain that was once accustomed to bad press, was honored to serve as his Batcave. To celebrate a job well done, Chipotle donated $4,260 to Financial Assistance for Cancer Treatment, or FACT, in Wayne's name. The donation matches the $10 a day spent during Wayne's first 426 days trying to defeat the original record. Looks like not all heroes pay extra for guacamole.