Yes, It's Safe to Go Back to Chipotle
The CDC says the E. coli outbreak is over: A brief history of why that's probably true.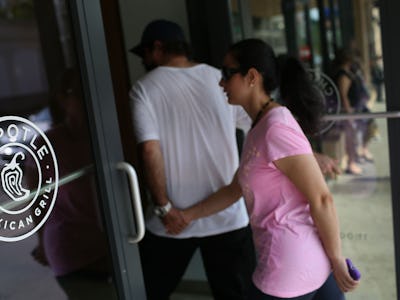 Getty Images
Our long national, carnitas-free nightmare is over: The Centers for Disease Control says it's now totally cool to power down a baby-sized burrito (even if they don't know where the E. coli originated). And even if you were a scared punk and weren't eating Chipotle already like myself and other badasses, you can now take solace in the fact that you're probably as safe as ever copping that extra guac on your barbacoa bowl, brah. Here's a look at some high profile E. coli cases that led other food chains to straighten up and fly right.
McDonald's, 1982
Some 50 people in Oregon and Michigan came down with E. coli poisoning from bad beef at the Golden Arches. It didn't make too many waves, though, as McDonald's has had a stellar safety record — besides the whole giving everyone diabetes thing — ever since.
Jack in the Box, 1993
The big kahuna: The Jack in the Box outbreak put E. coli on the map, infecting 732 and killing four children. I still remember when this happened. People were, rightfully, freaked out. Business was hit hard, forcing many stores — including the one I grew up near in Denver — to shutter. Jack in the Box recovered, though, and set new industry standards (sound familiar?) for food safety. They survived long enough to serve Larry David a Jumbo Jack and have more than 2,000 E. coli-free outlets in operation today.
Taco Bell, 2006
New Jersey, New York, Pennsylvania, Delaware, and South Carolina got hit with bum lettuce from T Bell. I don't really recall hearing about this one, but that might be because I lived in New York City at the time and eating in a rat-infested Taco Bell in Manhattan is akin to playing Russian Roulette anyhow. The rest of the country? You're probably good to go.
Jimmy John's, 2013
Nine cases of E. coli were linked to Colorado cucumbers a couple of years ago. Wait, dammit, what? I eat cucumbers at Colorado Jimmy John's sometimes. Am I just not getting the E. coli section of the newspaper or something? There have also been a few cases of E. coli stemming from sprouts at J.J.'s, so — yeah, it's probably safe to eat there — but I'd go ahead and stay away from those veggies.