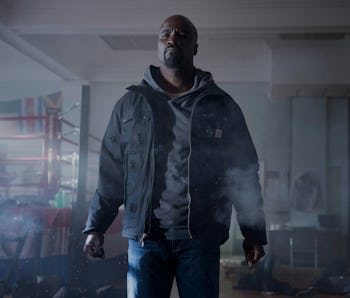 Entertainment
'Luke Cage' Adds Punisher's Mafia Princess As Season 2 Villain
Netflix
The streets of Harlem will have a new visitor when Luke Cage returns for its second season this summer. It seems Luke Cage and Misty Knight will have more to deal with than Mariah this time around because an "underworld power player" from The Punisher comics is getting in on the action.
Annabella Scoirra has been cast what is being described as a "key role," according to Entertainment Weekly. She will be playing Marvel Comics character Rosalie Carbone.
Rosalie is "a dangerous downtown criminal underworld power player with an eye, and an agenda, toward Harlem," so it seems Luke will have his hands full in Season 2. Luke Cage Showrunner Cheo Hodari Coker said, "You haven't seen her this gangster since her thrilling turn as Tony's formidable flame Gloria Trillo on Season 3 of The Sopranos. I'm thrilled her introduction to the Marvel Universe will be on Marvel's Luke Cage" about the newest addition."
While she may be making her live-action debut in Luke Cage, Rosalie is actually an adversary of the Punisher, according to comic book history. Debuting in 1992's Punisher: War Zone #2, Rosalie meets Frank Castle under a false name and falls for him. When the truth comes out about his identity, she feels betrayed and uses her family's resources to hunt him down after she gets control of the Carbone family. The character appeared in about two dozen issues.
With news that The Punisher'shas been renewed for a second season, it's possible that Frank's traditional comic enemies, the Carbone family, could make an appearance in his solo series by way of Rosalie. After all, Coker did say Luke Cage was "her introduction to the Marvel Universe." But, first, Rosalie needs to go up against Luke Cage.
Luke Cage Season 2 premieres June 22, 2018 on Netflix.