HQ Trivia's Popularity Explosion: What to Know
The low down on the most popular internet game show around.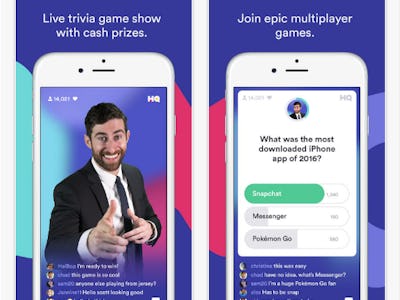 HQ Trivia
On a recent Sunday night, a gym teacher in North Carolina named Mikey Elkins won the $25,000 jackpot in HQ, the trivia game that nearly 2 million people play on their phones 12 times a week. The difference was that usually all the players who answer all 12 questions correctly split the prize pot. This time, only Elkins nailed all 12 and he claimed the pot for himself.
Elkins couldn't believe he got the big prize until HQ host Scott Rogowsky called to congratulate him. Chances are, you've heard of HQ Trivia by now. The mega-popular game was released last summer and quickly gained a cult following among tech-savvy quiz show enthusiasts who have ten seconds to answer a dozen increasingly difficult questions.
How HQ Works:
The entire game takes about 21 minutes. Each game runs at 3 p.m. and 9 p.m. Eastern time on week days, and at 9 p.m. on weekends. Players have 10 seconds to respond to questions, as regular host Rogowsky reads them rapidly out one after another, cracking jokes along the way.
Players who get through all 12 questions without missing any then share the cash prize announced prior to that game. The only exception to missing questions is having "extra lives," which players can gain through various methods, including inviting friends to join HQ.
HQ feels like a retro-futuristic vision of a game show imagined by a science fiction writer in 1965, wondering how humans might while away their weeknights in 2018. It's got traditional set-up of a trivia game show, but it's on your phone and you're the player. We don't have jet packs or interstellar space travel yet, but we do have HQ.
There's also a comment feed that runs at the bottom of the screen, which shows the live comments from anyone "inside" the game. You're best off swiping left to hide the comments, as Rogowsky sometimes has advised. They can be distracting and it's also a good idea to avoid the comments section altogether online.
The Hosts
Arguably HQ's most popular host is the aforementioned Rogowsky, who helped push the game's popularity last fall with his humousu hosting skills.
Other hosts who fill in for the comedian are British television personality Sharon Carpenter, along with Sarah Pribis and comedian Casey Jost.
Guest hosts over the past few months have included Ryan Seacrest during the New Year's Eve 3 p.m. broadcast and late night talk show host Jimmy Kimmel during a January 2018 game.
HQ's Growth in Popularity
With its founders deeming it as a Jeopardy for the social media age, the following it has amassed in the few months since its release proves its success is here to stay.
"We all grew up watching Jeopardy and Wheel of Fortune. That's our basis for this kind of stuff," former Vine co-founder Rus Yusupov told TechCrunch during the app's launch window.
The app, which released an Android version in December after months of iOS-only availability, hit one million players in January thanks to months of hyper-growth momentum and breaking into the mainstream.
HQ Trivia Alternatives
In fact, the HQ craze is so big, it's even inspired copycat quiz show apps in the wake of its success.
At the rate it's going, HQ Trivia will continue to gain users eager to win cash prizes for their trivia knowledge.