Can This 'Creed' VR Boxing Game Give You Michael B. Jordan Abs?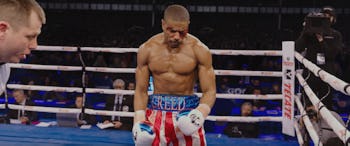 Warner Bros.
MGM just threw a ton of money into the development of a VR boxing game set in what we might as well call the Rocky Cinematic Universe, and we're all wondering the same thing: Will Creed: Rise to Glory give you some Michael B. Jordan abs or what?
On Thursday, VR developer Survios announced their next project after their virtual DJ simulator Astronauts would be a VR boxing game called Creed: Rise to Glory. The game puts players into the boxing shoes of Adonis Creed (the son of Rocky Balboa's rival/friend Apollo Creed) from the 2015 movie Creed, where he was played by Michael B. Jordan. Survios plans to demo the new game at the 2018 Game Developers Conference in San Francisco next week.
Survios also announced Thursday that the company secured a total of $50 million in funding this year — a huge chunk of it from MGM, the studio that made Creed — with a portion of that being used to develop complex VR systems that will hopefully get you some Michael B. Jordan abs just from playing the game.
According to the official press release, Creed: Rise to Glory will cover similar ground as the first Creed movie: "Under the tutelage of the legendary Rocky Balboa, you'll train hard in the gym and battle against the world's best fighters inside boxing's most iconic rings." Yet the game will also offer so much more because it'll bring together fighters from the entire Rocky franchise.
"We're throwing players into iconic boxing arenas, trading blows with the top fighters from the franchise," explained Survios co-founder and COO James Iliff in a press release, "all while experiencing the thrills and showtime dramatics of the ultimate Hollywood-style boxing exhibition."
So not only does this game let you train under Rocky Balboa, but it'll let you relive the franchise's most epic matchups — and maybe even create your own. Maybe you can even play out impossible match-ups like Rocky in his prime versus present-day Adonis, or even Adonis against his own father.
With the development of each Survios game, the team innovates new VR technologies, and Rise to Glory is no different. This new boxing game utilizes "Phantom Melee Technology" that supposedly "provides an authentic immersive experience that truly makes you feel like a boxing world champion." This new technology "triggers strategic desynchronization" to simulate staggering when you take hits or get knocked-out, but it also includes virtual stamina that "mimics the slowing effects of fatigue" over time.
Through this, Survios promises that Rise to Glory's "VR melee combat builds on real-life movement mechanics that feel like a true boxing bout, including many styles of punches, dodges, rolls, knockbacks, knockouts, and more, all with authentic hit reactions and responsive player control."
So you won't really feel it when you get punched in the face, but you're still going to have to work very hard to win every fight.
It looks like the game will be quite the workout, so here's to hoping that Creed: Rise to Glory can finally get you that six-pack you've always wanted.
Creed: Rise to Glory has no confirmed release date just yet, but it might coincide with the release of Creed II, which also doesn't have a release date yet.