How DJ Performance VR Game 'Electronauts' Could Change the Music Industry
Even you can spin awesome tunes in this virtual reality dreamscape.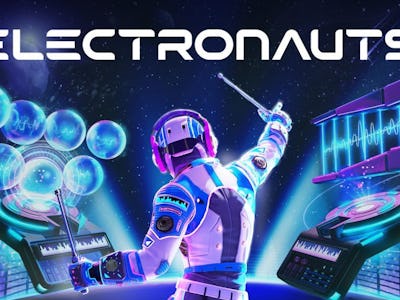 Survios
Imagine entering a virtual reality world and riding a platform through a technicolor dreamscape that pulsates from the music you yourself are spinning, playing, performing, and remixing on the fly. Sounds chill AF, right?
Inverse spoke with the team behind Survios — the same VR developer behind the popular shooter game Raw Data and the upcoming futuristic racer experience Sprint Vector — on Thursday at the reveal of its third project: Electronauts. And the innovations Survios is taking in Electronauts will forever change the way you think about DJs, all thanks to unprecedented VR music creation.
Designed as an interactive music creation tool within a virtual world, Electronauts embodies the surrealistic sci-fi style of TRON and features music that transcends genre boundaries. The focus is mostly on EDM, hip-hop, trap, and other bass-heavy and danceable music genres. But the game allows you to upload your own sounds and songs to play with, so the musical possibilities are quite literally endless.
Using VR, the whole experience feels like a cross between immersive music visualizers like Fantasynth and DJ toolkit sandboxes like SoundStage and EXA. But perhaps the best (and most useful) part of Electronauts is its "Music Reality Engine," which makes creating good music impossible to mess up.
If you come to Electronauts with zero musical experience or talent, you can still make great, danceable party tunes. But in the hands of more skilled creators, Electronauts looks and feels like it might be the next big innovation in the world of musical performance, especially when you project the in-game visuals onto a larger entertainment space.
Each player gets three DJ tables to work with, and the controller in each hand transforms into a VR drumstick. With some intuitive button presses and dragging of the sticks, you can drop certain tool sets onto each table. There are several different colored drum-like kits that you can whack with your virtual sticks but plenty of other tools as well.
You can interact with the music in a myriad of ways: play instruments, record loops and sequences, layer filters, rearrange pieces, and straight-up compose new parts of the songs. You can even change the speed at which you slide through the virtual world or adjust the color scheme on the fly.
Several years of percussion in grade school band served me well when I stepped inside the world of Electronauts at a demo in New York City on Thursday, hosted by Survios at Milk Studios. But even without my limited background in music, it would be extremely easy to get enthralled by the experience.
Working alongside a more experienced Electronauts player is probably the best way to get into the game, letting them take the lead while you goof around with the interface and tools.
This happened during my experience. By the second song, I was rocking a drum solo with one hand facing the table in front of me while the other was tossing "Sound Grenades" that exploded like fireworks in the distance, emitting a burst of synthetic sound each time.
Music creators can sign up for a Creators Beta due out early 2018, but Survios has already collaborated with award-winning music production team Stargate to help curate its initial library. Members of the Survios team also told Inverse that other high-profile collaborations will be announced in the coming months.
In a prepared statement, Stargate's Mikkel Eriksen said, "Never before have you been able to create music and interact with sound in a truly immersive way." Electronauts, however, offers up a totally immersive experience. "This opens up for a totally new level of creative freedom and will inspire both seasoned artist and musicians as well as people with no musical training. Anyone can instantly create magic."
Electronauts is an incredibly fun and chill time for just about anyone who even remotely enjoys music, but if Survios plays its cards right, it could stand to shake up the music performance industry as we know it.
Electronauts is due out on just about every VR rig presumably sometime in late 2018.