7 Places to Shop Now That Toys R Us Is Dead AF
Toys R Us may be no more, but that doesn't mean your toy hobby has to end as well.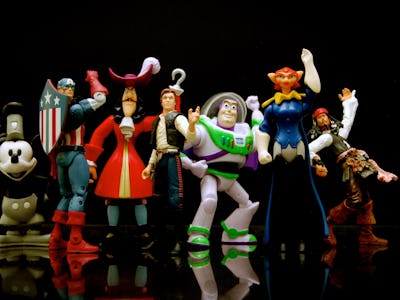 Flickr / JD Hancock
For toy collectors, the closing of Toys R Us is the end of an era. Although it outlasted rival KB Toys, which went out of business in 2009, the house of Geoffrey the Giraffe couldn't survive its $5 billion debt and stiff competition from retailers like Amazon. Now, collectors of Transformers, Funko, LEGO, and more will have to shop elsewhere for their fix. Fortunately, toys are still big business — you just have to know where to look.
On Wednesday, Toys R Us informed its 31,000 employees that it will sell or close all of its 735 stores in the U.S. CNN reported on Thursday that court documents filed the same morning confirmed the end of the franchise.
The demise of Toys R Us goes beyond its $5 billion debt from Vornado Realty Trust and Bain Capital and KKR & Co., private equity firms that bought the franchise in 2005. In the 21st century, kids have lost attention for plastic in favor of smart devices. In 2014, a study from market research firm Michael Cohen Group found that over 60 percent of parents said their kids 12 and under "very often" play with "Touch Screens." By comparison, less than 30 percent of parents had kids who played with "Dolls & Action Figures" (though that category still towered over "Construction & Blocks," "Game Games," and way over "Board Games").
At the same time, aging millennials have become a big demographic for toy sellers. One need only look at the surge of premium-priced, adult collector items from big toy makers like Hasbro (a 1:1 scale Captain America shield, retailed for $90) and the explosion of Funko toys on office desks everywhere.
So yeah, toys are still big business. But where can collectors go with Toys R Us out of the game? Here are five places toy hunters can still shop.
1. Big Box Stores (Walmart, Target) and Amazon
Big chains like Walmart, Target, and online outlet Amazon have been blamed by some for the demise of Toys R Us. While the selection maybe isn't as specialized, those chains are still a go-to for collectors. For Marvel fans, Hasbro often releases exclusive figures to specific box stores, including even Walgreens. (At Toy Fair 2018, Hasbro revealed that new figures of Marvel's Fantastic Four will be available exclusively at Walgreens.)
Amazon, of course, is also a no-brainer for Amazon Prime customers.
A frequent sponsor of YouTube toy vloggers, BigBadToyStore is a favorite for collectors of premium plastic. While BBTS has the usual selection for kids, the outlet specializes in premium figures, like Bandai's S.H.Figuarts, Revoltech, and the ultra-realistic Hot Toys. Keep an eye out for vloggers like Shartimus Prime who might offer discount links in their videos.
Toys R Us wasn't big for anime fans. That's where specialty mom-and-pop stores like Image Anime, which is located in Manhattan but ships worldwide. While international buyers have to pay extra for shipping, stores like Image Anime are the best hook-up for collectibles not sold outside Japan. Gundam collectors: You probably already know about this one.
Another New York retailer with a worldwide reputation, Midtown Comics, has an array of action figures, Funko, and museum-grade statues from Marvel, DC, and more. Keep an eye on its website, which will frequently promote discounts that extend to its toys.
In 2015, video game retailer GameStop bought the online outlet ThinkGeek. Now, GameStop stores everywhere have a massive selection of t-shirts, toys, and collectibles outside of just video games. Funko collectors have learned to frequent ThinkGeek/GameStop for exclusive releases.
If your neighborhood shopping mall hasn't closed yet, chances are it might have an FYE. Against all odds (likely due to the vinyl revival), the entertainment retailer has grown to also sell collectibles, action figures, Funko toys, and more.
7. Local Comic Book Shops and Conventions
A lot of stores on this list are exclusively online, but your local comic book store and conventions, be it Comic-Con or smaller, are still great places to buy toys. Not only does this support local businesses, they're also great places to get rarer items that have long been out of production. Strike up a polite conversation and you might even be able to haggle — something you couldn't do at the big retailers.