With Store Closures, a Death Knell For Toys"R"Us
182 locations are closing up shop.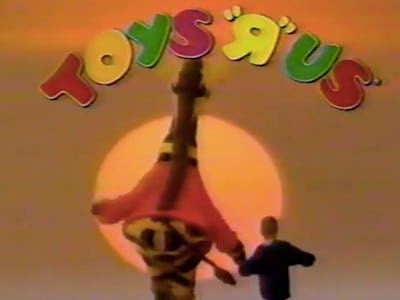 Adam Antium/Youtube
Toys"R"Us locations will close over the next few months — 182 in all — the company announced Wednesday. After filing for bankruptcy last September, the iconic toy retailer is shuttering around 20 percent of their stores in an effort to resuscitate their ailing business.
Like most brick-and-mortar stores, Toys"R"Us has struggled to keep pace with online vendors like Amazon. As more Americans turn to online shopping for both price and convenience, big market stores have atrophied. A declining share of the video game market also contributed to Toys"R"Us's decline.
Liquidation sales will start in early February, with most of the locations ending operations in mid-April. The list of stores to be closed isn't final; some may stay open depending on the cost of lease renewals. Because of the uncertainty, it's unclear for now how many employees will be affected by the closures. "Our goal is to place as many team members as possible in other locations," a Toys"R"Us spokesperson told Inverse.
News of the impending shutdowns created a cascade of nostalgic laments. On social media, memories were shared, old commercials were revisited, children were blamed for not playing with toys.
Scores of '80s and '90s kids took to the internet to participate in online mourning rituals. Some Twitter users showed telltale signs of the five stages of grief:
Denial
Anger
Bargaining
Depression
Acceptance
Honestly, it's a bit of a premature funeral. Toys R Us will still have around 700 locations after the purge is complete. And we'll always have the memories.