Anti-Censorship Project Uses Spotify to Sneak Forbidden Stories Across Borders
The Uncensored Playlist is a trojan horse.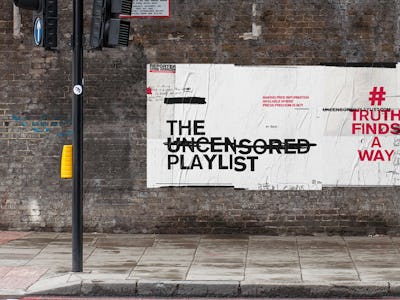 Reporters Without Borders
Like the Whos down in Whoville, press freedom organization Reporters Without Borders (RWP) is winning hearts and minds through the power of song. In a project called the Uncensored Playlist, which launched Monday, the organization's German bureau paired journalists and musicians in order to smuggle information past authoritarian regimes using streaming platforms like Spotify and Apple Music.
What Is the Uncensored Playlist?
As part of World Day Against Cyber Censorship, RWP recruited exiled journalists from five different countries — China, Egypt, Thailand, Uzbekistan, and Vietnam — where information is censored by the government. All of these countries rank in the bottom 40 when it comes to freedom of information, according to the World Press Freedom Index.
Journalists selected wrote two songs about taboo topics in their home country and worked with local musicians to create music and lyrics with popular appeal. Then, RWP uploaded the songs to Spotify, Apple Music, and Deezer, slipping contentious coverage and criticisms back into censored countries.
How Is the Uncensored Playlist Protected?
Generally, this kind of speech would be censored by the government, and the author would be barred from publishing future content online. Before Ping immigrated to Germany in 2011, for example, he was barred from working at any newspaper after writing columns criticizing the government.
But while the governments in these countries exercise stringent censorship of information on the internet, they allow access to music streaming platforms. And this creates a loophole.
"Blocking individual songs on a streaming service is technically impossible unless the provider agrees to cooperate with a government authority requesting this kind of action, which we assume they won't do," RWP spokesperson Christoph Dreyer tells Inverse. "The only other option for a government to stop these songs is therefore blocking the entire streaming service — which would create such a public stir that it doesn't seem a very realistic thing to do."
What Are the Songs About?
The songs cover a wide range of humanitarian and political issues. For example, Egyptian journalist Basma Abdelaziz wrote about wealth inequality and government corruption in her song Hunger Games:
Here they sleep
With their power and pride,
Buildings of gold
And govern the poor outside
Uzbekistani journalist Galima Bukharbaeva wrote about police brutality in her song A Businessman Died:
Murodillo Omonov died in the early hours
After being detained by the police of Djarkurgan district
His mother claims murder under torture
Chinese journalist Chang Ping wrote about the draconian punishment the government inflicts upon political dissenters in his song Speech Is Freedom:
In China political prisoners are made criminals for their speeches
Convicted of various trumped up crimes, like in a dictatorship
Other Ways to Circumvent Censorship
This isn't the first time RWP has used guerilla information tactics to smuggle taboo ideas past authoritarian governments. The organization has run a similar annual campaign called "Collateral Freedom" since 2015.
"We have mirrored news portals and human rights websites blocked in their respective countries, replicating them (including live updates) on the cloud servers of large providers such as Amazon or Fastly," Dreyer says.
The governments can't block the mirrored sites without restricting access to the entire suite of servers (which power large chunks of the internet), so they are forced to ignore the information.
With the success of The Uncensored Playlist and Collateral Freedom, RWP has drawn up a blueprint for passing information through back channels on the internet. It's a game of cat and mouse, but journalists appear determined to stay one step ahead.