Why 'Black Panther' Success Isn't Good for Other Blockbusters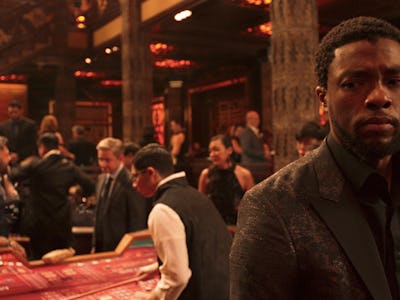 Marvel Entertainment
Black Panther is a runaway hit that's noteworthy for several reasons. Having passed the $1 billion mark, the film is a big win for Marvel Studios. The blockbuster is great in terms of representation, both in front of and behind the camera, because it shows that people of color can create, write, and star in successful films. Additionally, as an essentially all-American production, the film is a testament to what can be created domestically. But its success isn't necessarily good for other domestic blockbusters making their way to theaters.
With the international marketplace being the focus, domestic blockbusters may have difficulty following Black Panther, according to IndieWire. The article refers to the direction taken by most studios to "appeal to the world first, and deal with the home team later."
A film's international appeal being weighed more heavily than its success at home means ultimately puts what Americans audience as a lower priority. Black Panther may have crushed the idea that international audiences won't show up for a more diverse film, but it's also one of 2018's few films that appeal both internationally and domestically. Other films released in 2018, including Maze Runner: The Death Curse and Fifty Shades Freed, made a majority of their revenue in foreign markets. In fact, IndieWire's Tom Brueggemann writes, "North American theaters are starving for viable product beyond Black Panther, but studios may not see reason to worry as long as overseas performance creates a strong bottom line."
Potentially complicating things even further are Chinese domestic releases, which continue to do increasingly well. Six of the top ten foreign releases — including Black Panther — were produced in Hollywood, and only four are blockbusters made in China. If Hollywood aims to be even more competitive, then studios may continue to focus on films and stories that will do well internationally. Movies that make domestic audiences happy could become an afterthought.
2018's box office totals are up from last year, but that's largely thanks to Black Panther and films that were released in December 2017. So far, films in 2018 are not doing nearly as well compared to last year: Logan, Kong: Skull Island, and three other films all opened over $40 million by this point in 2017.
Black Panther is the ideal film that both interests domestic audiences and does well overseas. It's rare, so it'll be interesting to see if any of 2018's other offerings do well worldwide, and even more interesting to see how much studios will really focus on international markets in the future.
Black Panther is currently out in theaters.