SXSW 2018: 'Director and the Jedi' Documents Mark Hamill's Struggle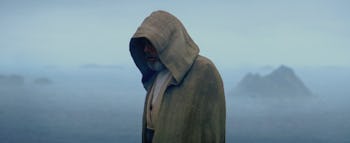 Lucasfilm
By now, it's well known that Mark Hamill initially had some personal objections to how Luke Skywalker would be depicted in Star Wars: The Last Jedi. And now, a new immersive documentary will show just how much he and director Rian Johnson went through to make the film.
On Monday, Anthony Wonke's documentary The Director and the Jedi debuted at SXSW. Speaking on the red carpet, Wonke described the project as "a love letter to film." Wonke also teased the idea that a portion of the doc will depict Mark Hamill's struggles with the fate of Luke Skywalker.
"It was a big deal for Mark to realize his charater was taking a different turn that expected," Wonke said.
Unlike other documentaries about big films, The Director and the Jedi had radio mics embedded on every single cast and crew member, meaning that Wonke and his crew had unprecedented access. The official description of the documentary calls it "intimate" and that it will touch on "the significance of Johnson's most surprising decisions."
Also speaking on the red carpet for the premiere, Mark Hamill said he was surprised by how much access the documentary crew had. "I didn't have a choice," he said. "I sprained my ankle, they went to the doctor with me. … I spoke at Oxford, they followed me there. … I've never seen a more comprehensive documentary."
The Last Jedi director Rian Johnson was also asked point-blank by one interviewer if the documentary will give "haters a new perspective" on the controversy surrounding Luke Skywalker's bad attitude in the film. Johnson answered that he thinks audiences might "grow with the movie" and that when was a kid, The Empire Strikes Back was his least favorite, but that he later grew to understand it. He also emphasized that the documentary was mostly about how the film was made, not his decisions. Johnson also declined to comment about his new Star Wars trilogy saying only that he was "excited."
The Director and the Jedi will be available as a special feature on the Blu-ray release of Star Wars: The Last Jedi.