Jeff Bezos Reveals His Personal Style Icon: Captain Picard
Bezos makes first tough choice since crowned richest man in the world.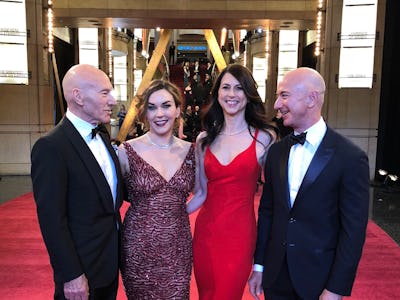 Twitter
The richest man on Forbes Billionaire List made a controversial choice in the ongoing debate of Captain Kirk versus Captain Picard. His choice: Picard.
Amazon CEO Jeff Bezos tweeted a picture of himself with the Star Trek captain earlier today. The candid shot from last week's Academy Awards in Los Angeles shows the resemblance between Bezos and Sir Patrick Stewart.
"Kirk or Picard? Picard!," said Bezos.
The Amazon boss was at the Oscars with wife MacKenzie Bezos. The Big Sick, released by Amazon Studios and Lionsgate, received an Oscar nomination for Best Original Screenplay by Emily V. Gordon and Kumail Nanjiani, which was loosely based on their own real-life romance.
Last year, the studio won three Oscars. Manchester by the Sea won the awards for Best Original Screenplay and Best Actor. The Salesman took top prize for Best Foreign Movie. Amazon Studios movies are available to watch via Amazon Prime Video included in the Amazon Prime membership.
Stewart has his arm around Sunny Ozzel. In early February, Stewart hosted the Science and Technical Academy Awards.
Amazon's CEO is no stranger to Star Trek. As a lifelong fan, he was able to check off an item from his bucket list by making a cameo in Star Trek: Beyond. He tweeted a Vine of him in his full alien make-up.
Bezos recently topped the Forbes Billionaire List on Tuesday with his $112 billion fortune, ousting long-time "richest man in the world" titleholder Bill Gates with his paltry $90 billion.
In the few days since his takeover, Bezos worth increased to $130 billion as Amazon stock continues to increase in value.