SXSW 2018 is All About Cryptocurrency, eSports, and Tech Legends
There's a lot in store for the next week and change.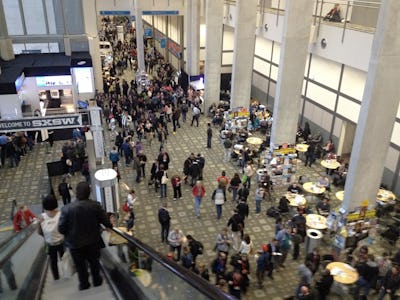 Flickr / Kevin Krejci
For the next 10 days, the worlds of tech, entertainment, media, politics, and more will converge in Austin, Texas, for the 22nd annual South by Southwest. It's a massive event, and even just focusing on particular topic area — in this case, everything tech-related at SXSW — still leaves a ton of ground to cover.
Inverse will be covering the biggest and most fascinating keynotes and sessions over the next week and change, but already there are some clear trends as to what the event will focus on this year. Here are three of the biggest.
3. Blockchain as far as the eye can (digitally) see
Cryptocurrency and the underlying blockchain tech have dominated headlines since the great bitcoin boom began late last year. Even as the price of bitcoin and other digital currencies have dropped, the potential of blockchain has never felt greater. To that end, featured sessions include a look at how to build a business on the blockchain, how the technology will build a more decentralized world in the 21st century, and even how the blockchain fits in with a quantum computing future. SXSW isn't necessarily going to have a lot of hot tips on how to make a fortune in bitcoin, but it will represent some much-needed opportunities to consider just how this still young technology is reshaping our world, both now and going forward.
2. eSports are on the rise
If cryptocurrency has made blockchain a cultural phenomenon in the past few months, eSports feel like a logical candidate for the next tech phenomenon to go similarly supernova by the time SXSW 2019 rolls around. Even if eSports aren't yet exactly mainstream, a global audience of nearly 400 million is hardly niche. But ey to that potential arrival in the broader public consciousness will be some of the topics discussed in Austin, including how it can reach new audiences, how the Overwatch League came together in just a year, why the NBA is getting into eSports. In a perfect crossover, there's even a session on how the cryptocurrency Ethereum and eSports can work together.
1. Tech's biggest names — and biggest personalities — are here
SXSW is a time for influencers to drop big takes on the future, and nobody is better qualified to do that than Ray Kurzweil, the father of the singularity. Nonny de la Peña, known as the godmother of virtual reality, has one of the keynote sessions, as does London Mayor Sadiq Khan, whose main topic is how technology will shape future cities. Some speakers don't even need any specific topics advertised. Consider this entire description for the session with acclaimed cyberpunk author Bruce Sterling: "Always a highlight of SXSW Interactive, Bruce Sterling's annual rant is a compelling take on the state of the world, seen through the eyes of a design futurist, science fiction author, world traveler and Internet maven."
Well, color us intrigued.