Falcon Heavy & Starman Film by 'Westworld' Creators to Premiere at SXSW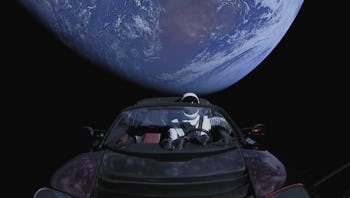 Flickr / sjrankin
Although Elon Musk might not be sending humanoid robots into space anytime soon, he did enlist two fictional robot experts to help with a new project about the Falcon Heavy. Lisa Joy and Jonathan Nolan, creators of the HBO series Westworld, have collaborated with SpaceX CEO on a short film about the historic Falcon Heavy launch.
Update: Here's the video and story behind Starman
On Friday, Musk announced on Twitter that a short film about the Falcon Heavy and Starman will be released on Saturday afternoon at the 2018 South by Southwest festival.
Though he's never collaborated Nolan and Joy until now, Musk has expressed his enthusiasm for Westworld before. In 2017, Musk said he thought the robot sex depicted in the show was "quite likely" in the future. Musk's ex-wife, Talulah Riley, appeared in season 1 of the show, a performance that he praised.
When asked on Twitter if Riley would attend, Musk revealed she is hard at work on science fiction novel about "a future matriarchal society, with a twist."
At present, it's unclear if Nolan and Joy's short film about the Falcon Heavy and Starman will only include real-life footage, or if some aspects of the launch will be recreated and dramatized with HBO-styled precision.
In other words, fans of Westworld would love to see a short documentary about the Falcon Heavy narrated by either Anthony Hopkins or Jeffrey Wright, but right now, we don't know if that's the case.
Five years ago, Musk gave a keynote at SXSW, which you can watch below.
The second season of Westworld will debut on HBO on April 22, 2018.