"I Couldn't Believe I Was Doing This': Woman Puts Her Deed on Blockchain
A new type of book keeping.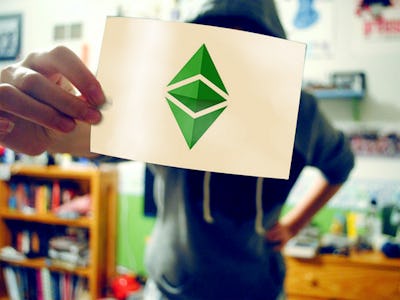 Flickr / EthereumClassic
On February 20, Vermont resident Katherine Purcell signed off on the first completely blockchain-based real estate deed in the United States.
"I was a little nervous, like I couldn't believe I was doing this," Purcell tells Inverse. "But this type of technology excites me. Its encryption capabilities are top of the line in terms of keeping deeds and other documents safe."
These proceeding were made possible by the San Francisco-based startup, Propy, which partnered with the city of South Burlington to begin using the blockchain to record real estate conveyance documents instead of using the city's record system. According to Propy, Vermont is one of the first states to allow this type of book keeping.
Her transaction has now been stored on the Ethereum blockchain, which Propy runs on, just like any other cryptocurrency exchange would be.
A screenshot of Purcell's paperwork was reported by the financial blog Zero Hedge on Thursday. The article quoted an anonymous source at Propy that stated this was the first step in the company's planned real estate takeover.
"This first deal makes it much easier for the rest of the 49 states to iterate the process," the source told Zero Hedge. 'In fact, Arizona and Colorado are next."
While this was Propy's first completed transaction in the U.S., it hosted the world's first real-estate purchase on the blockchain in Ukraine on October 2017. The transaction was made by TechCrunch founder Michael Arrington, who remotely purchased an apartment in Kiev, Ukraine, for $60,000. Arrington is one of Propy's board members, according to CrunchBase.
The company raked in $15 million during the initial coin offering of its cryptocurrency, back in September 2017. The token is trading at $1 as of 6:10 p.m. Eastern.
While the startup might be treading in new waters, Purcell believes that it has a bright future ahead of it.
"The people from Propy were fantastic to work with," she says. "I've been reading that this tech is perfect for certain types of transactions. Real estate is one of them."