'Black Panther' Just Set Another Incredible Record at the Box Office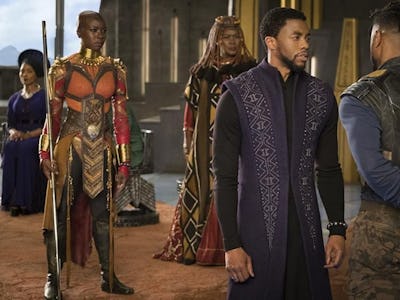 Marvel Studios
Some of Jimmy Kimmel's best jokes as host of the 90th Academy Awards were about Black Panther's success at the box office, and now Marvel's latest superhero film has set yet another incredible record: Black Panther has officially grossed more than $500 million domestically in three weeks.
During its third weekend in theaters, Black Panther beat out new films Red Sparrow ($17 million) and Death Wish ($13 million) to make $65.7 million here in the United States, bumping its domestic total just over a half-billion dollars.
You might also like: "Killmonger Is the Real Black Panther, Viral Photoshop Argues"
Only two films in the history of cinema earned that much domestic gross in three weeks: The Last Jedi with $517 million and The Force Awakens with $742 million.
If you look at it another way, Black Panther also had the third-biggest third weekend of all time. In 2010, Avatar earned $69 million in its third weekend and Star Wars: The Force Awakens took in $90 million in 2016. Both films benefitted from New Year's Day falling on the Friday of that third weekend, so in a way, Black Panther really is king. It didn't need a holiday boost to get this far.
(Notice that all of these top films come from Disney.)
Globally, Black Panther also just reached $897.7 million, so it's well on its way to that hallowed $1 billion mark. It still has several weeks left in theaters, especially if it continues to perform well with viewers.
It's unlikely that Black Panther will become Marvel's highest-grossing film ever, but chances are it will come fairly close. In 2012, The Avengers took in $1.5 billion in gross sales, but that was also a superhero team-up flick. The real contender Black Panther needs to beat is Iron Man 3, which grossed $1.2 billion in 2013.
If Black Panther does eventually pass that threshold, then it'll rest comfortably as the biggest solo superhero film ever — and it will probably stay at the top for a long time.
Black Panther is currently in theaters.