Apple Predicted to Debut New, Cheaper MacBook Air, and It's Coming Soon
The MacBook Air could be getting a new look and a price cut.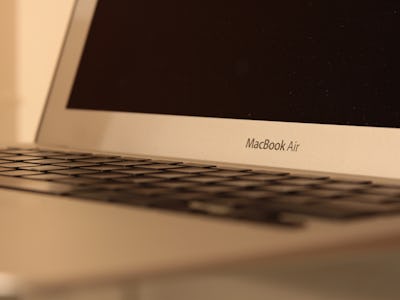 Flickr / marc.flores
Apple will release a more affordable MacBook Air as soon as the second quarter of 2018, according to a new report from an analyst with deep contacts in the company's supply chain. That pegs the date range for this new, more economical version of the company's popular laptop as somewhere between April and June.
While you can set your watch by Apple's annual iPhone releases, updates to the company's MacBook lines have been far less consistent. As Mac Rumors points out in their report, the MacBook Air has not seen any significant updates since early 2015, an eternity in technological development time. After all, that's the year Apple debuted the iPhone 6S, which is now five releases ago.
The report has no specifics on what users might be able to expect from this new MacBook beyond the lower cost, though you need only look at the current MacBook Air to see what might need improvement. The processor, graphics, and external display are all years out of date, and Mac Rumors argues a full redesign of the laptop's look could be in order, given how much time has elapsed since the last release.
Read more from Inverse: "Dual Screen MacBook Would Be Awesome, Just As Steve Jobs Predicted in 2007"
Screen size is also an intriguing consideration. While the original 13-inch MacBook Air, which launched in 2008, is still in production, its smaller 11-inch counterpart was only available from late 2010 to 2016, when it was discontinued. Apple could take this opportunity to roll out a MacBook Air in new size or sizes, especially as now its smallest screen option is the 12-inch MacBook Retina.
The report doesn't indicate exactly what "cheaper" would mean for the MacBook Air. Apple's own prices start at $999, though Amazon offers the 13.3-inch MacBook Air at a discounted price of $844.98. Either way, it's likely this new MacBook Air would retail at less than the cost of the iPhone X.
Read more from Inverse: "Apple is Planning a 13-inch MacBook That Doesn't Break the Bank"
The original prediction for the new, cheaper MacBook Air comes from Ming-Chi Kuo, an analyst for the East Asia-based financial services group KGI Securities. His sources in Apple's supply chain make it possible for him to project upcoming research.
While his work is primarily geared toward helping investors assess the company's upcoming moves, consumers in general can get a sense of what's ahead from his predictions, which have a strong if not perfect accuracy rate. Other recent predictions from Kuo include high-end over-ear headphones and a new 6.1-inch iPhone to replace the iPhone 8.