MUSIC RELEASE OF THE WEEK| London O' Connor
Take a journey through the spaced out world of London O' Connor.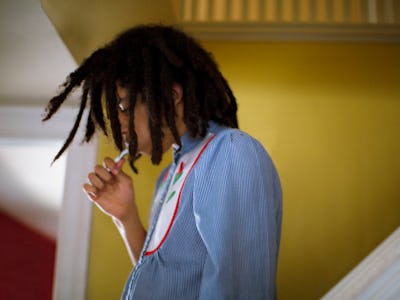 Oliva Bee
London O' Connor is elusive. Until he was recently profiled by the Fader, it was hard to find any information about the artist except for the few tracks he started releasing late last year. He went to NYU, he faked his own kidnapping in what appeared to be a form of an art project, but beyond that there very little to glean from the soft-spoken performer. Perhaps that was best.
London O' Connor's debut project O∆, released last week, is a lethargic wide-eyed journey through his mind. "Oatmeal", the first single from the project, is him sitting around bored at home watching his uncle doing nothing with him pinning "I want to make it out this house / Everything moving in slow motion." That little phrase captures a lot of London's big interests, which is not only wanting to discover the world but to find the right pace by which to move within it. There are small references to recording travel logs that suggest London is on a space adventure to this strange place called Earth. That bug-eyed wonder gives the vaguely rap tape a very un-rap like innocence. Rap, typically when presenting such a complete worldview, attempts to see through the world — see Vince Staples' excellent Summertime 06 — and question everything that could possibly be absorbed. London lacks that skepticism and is ready to absorb all he can see.
The project was entirely produced and written by London, which on a singular listen is abundantly clear. There are no guest appearances, London often takes to singing when his lackadaisical rapping still appears too gruff. The vibe leans more towards an indie rock solo project like Atlas Sound by Bradford Cox, of Deerhunter fame, than anything by a rapper. That quality allows the tape to breeze by on multiple listens because it doesn't grab one's attention, but instead does its own thing and would be eager if someone reached out to him.
The one moment of conflict is the whimsical "Nobody Hangs Out Any More" that laments how the Internet keeps people apart, even as it can bring them together. London doesn't issue his grievances as a luddite's manifesto, he seeks closeness to people in his life, but aren't in his life. Even if London isn't actually an extraterrestrial lifeform, who just stumbled upon American youth, he reflects it well. Suburban boredom, awkward crushes, navigating friendships URL to IRL, and a simply wanting to learn something from every day.