Oscar A.I. Predicts Winner for Best Director: Will  Guillermo del Toro Win?
'The Shape of Water' director might finally get his Oscar gold.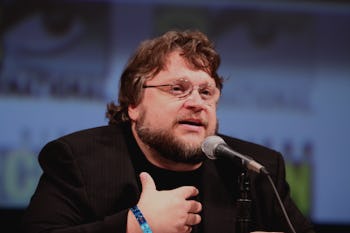 Flickr / Gage Skidmore
On Sunday, the Academy Awards will crown their filmmaker of the year, and the contest includes some impressive names. Heavyweights like Christopher Nolan (for Dunkirk) and Paul Thomas Anderson (for Phantom Thread) will face off against newcomers like Get Out's Jordan Peele and Lady Bird's Greta Gerwig, while formerly nominated but never-yet-the-winner Guillermo del Toro is getting a second chance with The Shape of Water.
According to Unanimous A.I., a San Francisco-based technology firm that uses "swarm intelligence" to make scarily accurate predictions, this could finally be del Toro's year. Edging out Nolan for the top spot, the A.I. is pegging del Toro's chances at 80 percent. The Shape of Water, a fantasy-laden film about the forbidden love between a mysterious creature and a cleaning lady working at the government facility where he is held captive, has been a hit with critics and audiences alike. Viewers have lauded praise on the film for its heavy visual style and its intelligent spin on the classic monster movie genre.
Backing up that praise, Unanimous A.I. used what's known as swarm intelligence to forecast the likely winner of Best Director, harnessing its prediction from a pool of around 40 die-hard movie fans. Each member of the swarm worked together as a hive mind to decide on the probability of a winner, based on what they perceived the academy was also likely to choose. Using the collective intelligence of the group, manifested through the A.I. algorithm, the predictions tend to merit eerily accurate results.
As you can see in the animation below, each participant controlled a little golden magnet and used it to drag the puck toward the answer they thought was the most likely outcome. As users see the puck move toward a particular outcome, it triggers a psychological response. They readjust their decision-making, building toward a consensus. Del Toro becomes the favored winner as the group edges away from Nolan.
In 2017, Unanimous A.I. got five of the Big 6 Oscar categories correct (Best Actor, Actress, Picture, Director, Supporting Actor, Supporting Actress). It missed the mark on Best Picture, as its swarm of movie experts incorrectly guessed that La La Land would win. Moonlight was the actual Oscar winner for Best Picture in 2017.
Unanimous A.I. has also predicted winners for the other categories at the upcoming Oscars ceremony. The swarm is betting that The Shape of Water will win Best Picture, while Gary Oldman will take home Best Actor, and Frances McDormand is pegged to receive Best Actress.
Here's how to stream the 90th annual Academy Awards on Sunday at 8 p.m. Eastern.