Early Samsung Galaxy S9 Data Reveals iPhone-Beating Stats
Apple needs to up its game now.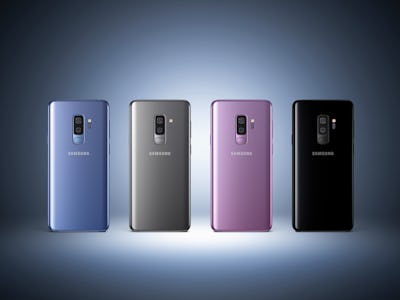 Samsung
The Galaxy S9 is an impressive smartphone. Samsung's latest flagship release, unveiled at the Mobile World Congress in Barcelona this week, has wowed commentators and set a number of records. In some measures, it's even beaten Apple's iPhone X, with its camera and display drawing particular praise.
In a lab analysis where it described the phone as having "the best smartphone display," DisplayMate wrote:
The Galaxy S9 is the most innovative and high performance Smartphone display that we have ever Lab tested, breaking and establishing many new Display Performance Records that are listed above. The Galaxy S9 delivers uniformly consistent all around Top Tier display performance and receives All Green (Very Good to Excellent) Ratings in All of the DisplayMate Lab Test and Measurement Categories – the first display we have ever tested to get All Green in All Categories. The level of display performance and excellence has been increasing each year, and the Galaxy S9 has raised the bar higher.
The device won out on color accuracy — "visually indistinguishable from perfect" — as well as a new brightness mode that's up to 20 percent brighter than the S8.
On the camera front, DxOMark gave the Plus version of the device its highest-ever rating for a smartphone, edging out the Google Pixel 2 by scoring a staggering 99 points. The dual 12-megapixel camera has a primary lens with 1/2.55-inch sensor and f/1.5 to f/2.5 variable aperture lens, while the secondary camera has a 1/3.6-inch sensor with f/2.4 aperture that acts as a 2x telephoto lens. Both lenses offer optical image stabilization, video can shoot at 4K resolution at 60 frames per second, and a special slow-motion mode can capture at 960 frames per second. All this amounts to an impressive device:
The S9 Plus comes with a camera that hasn't got any obvious weaknesses and performs very well across all photo and video test categories. The Photo score of 104 points is the best we've seen so far. At 91 points the video score is a little lower but still among the best, making the new Samsung an ideal choice for any mobile users who want the best possible still image quality without compromising on video.
However, it should be noted that the DxOMark score is subjective as it's based on analysis of the resultant photos. Nonetheless, Samsung has set the bar high for Apple.
It's hard to improve from here, but rumors suggest Apple is already working on three new iPhone models, as well as an iOS 12 software update with deeper integration. As for display technology, DisplayMate's analysis suggests that the next battleground for smartphones will come from performance in sunlight, making sure that accurate colors stay perfect even on a sunny day. Game on.