Why Tesla Isn't Really a Car Company at All, And Why That Means It Will Win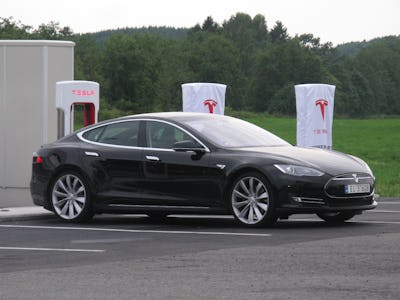 Flickr / nakhon100
Tesla isn't a car company. It's a battery company that sells most of its batteries with wheels attached.
Perhaps the most under-appreciated facet of Tesla's long-term strategy is the company's leadership in transitioning our grid off fossil fuels and onto renewables.
If everybody starts driving electric cars, we will need a lot of energy to power them. Creating the infrastructure to generate and store that energy renewably is a massive opportunity.
Launched in 2015, Tesla Energy is rapidly becoming a globally recognized leader in both commercial and residential renewable energy solutions.
Starting with a modular battery product known either as the Powerwall for residential use or the Powerpack for commercial, Tesla has gone all-in on producing not only the world's cheapest batteries, but also the world's most efficient ones.
Batteries may just be the most important part of the renewable energy revolution. The most popular emerging sources of renewable energy are solar panels and wind turbines. Although these technologies produce a lot of energy and continue to improve, they do not produce power consistently. Batteries like ones that Tesla has designed serve to store this energy as it's generated, and disperse it when needed.
Beyond batteries, Tesla is also a world leader in solar energy.
In November 2016 Tesla acquired SolarCity, and overnight became a renewable energy titan. The combination of bringing batteries and solar panels in-house opens up incredible synergies in Tesla's business.
Tesla's unique retail distribution strategy allows the company to educate consumers about its products, and sell consumers on its trifecta of green solutions. The future of an electric car in your driveway, solar panels on the roof and battery storage in your garage is coming fast thanks to Tesla.
Customers purchasing electric vehicles usually want batteries and solar panels too. It is estimated that Tesla already has some of the world's highest retail sales per square foot, and that number is only going up as the company matures and expands its product lineup.
Shortly after the acquisition of SolarCity was announced, Tesla unveiled its Solar Roof product.
This is a game changer for the residential solar industry from both an economic and aesthetic perspective. Integrating solar panels into a roofing product looks great (the way that Tesla has done it), and it means the functionality of a roof and solar energy can be intertwined in a single purchase.
Much like most of Tesla's products, the Solar Roofs have a backlog well over a year long. Sales are expected to ramp gradually throughout 2018 as Tesla scales production.
Despite being less than three years old, Tesla Energy is already a massive business.
Aided by the 2016 acquisition of SolarCity, Tesla's "energy generation and storage" revenue was $1.1 billion in 2017, up a whopping 516 percent from the year prior. In its fourth quarter 2017 shareholder letter, Tesla laid out a goal to triple its energy storage deployments in 2018. Although its solar business will likely grow slower than that, overall Tesla Energy is prepping for another record year in 2018.
Only a small fraction of the world's energy is currently derived from renewable sources, and that is poised to shift dramatically in the coming decades.
As Tesla continues to improve its battery technology and the cost of solar panels continues to fall, its solutions are getting more economical by the day. The same can't be said for fossil fuel alternatives.
The cost trajectory of renewable solutions along with growing public sentiment surrounding the need to go green bodes very well for the future of this industry.
If Tesla can maintain a leadership position in battery cost and performance by leveraging its advanced robotic manufacturing process and vertical integration, its energy division will see epic growth for years to come.
Tesla's Gigafactory 2, located in upstate New York, has the capacity to produce enough solar panels to power 150,000 homes annually. With some quick back of the napkin math it's easy to get really excited about this opportunity. At an average price of $30,000 per system, a fully scaled Gigafactory 2 could be generating $4.5 billion in incremental revenue for Tesla. That's not including all the battery sales that would go along with the demand for that level of residential solar installations.
Going forward, this will be an increasingly important piece of Tesla's business to watch as it matures in 2018 with ramping storage deployments and growing Solar Roof sales. The world is going to need a lot more batteries and solar panels over the next 20 years to transition us off fossil fuels.
Not only is this a multi-billion dollar business opportunity for Tesla, but it's a feel good story for our planet. Going green is no longer just the morally right thing to do, it's the economically right thing to do.
If Tesla can maintain a leadership position in batteries and solar panels, it will enjoy tremendous tailwinds from this industry-wide shift.
Article originally published on evannex.com by guest blogger Galileo Russell. He is a 25-year-old Tesla shareholder based in New York. He has been blogging about Tesla since 2012, and is the founder of -HyperChange TV, a new YouTube channel about tech and finance news for millennials. EVANNEX offers aftermarket accessories, parts, and gear for Tesla owners. The Florida-based company also maintains a daily blog on the latest Tesla news.