The Dalai Lama Goes to Rock Festivals for a Reason
Tibetan's exiled spiritual leader has always embraced the power of music.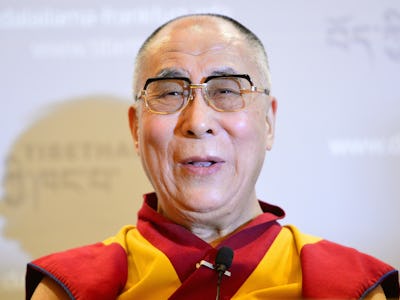 Getty
Just as a candle cannot burn without fire, the Dalai Lama cannot live without dope beats.
This weekend, the exiled spiritual leader of Tibet celebrated his 80th birthday at Britain's Glastonbury Music Festival, where punk legend Patti Smith introduced him to a very receptive crowd and lead a "Happy Birthday" sing-along.
"I very much appreciate those singers and musicians — most of you with white hair," he told the crowd. "That voice and physical action looks very beautiful."
The most recent incarnation of the Bodhisattva of Compassion also gave Smith, author of the truly awesome Just Kids, a major compliment. "Myself, now 80 years old, I should be more like you," he said.
While Pope Francis has been considered the illest religious figure of recent years, the Dalai Lama has a long history of working alongside rock stars. Tibetan freedom had a moment as a cause of the late-90s largely thanks to the efforts of acts like The Beastie Boys, who helped organize the Tibetan Freedom Concert series, attracting then-big names like The Red Hot Chili Peppers, Smashing Pumpkins, Rage Against the Machine, and De La Soul, as well as his holiness himself. The Dalai Lama was probably closest to the Beastie Boys, sitting down for a long talks on compassion and politics with MCA, and helping the group outgrow their juvenile deliquent image on the way to becoming elder statesmen of hip hop.
He's kept close ties to the music community, and even hung out with Macklemore once, so you know he's not just trying to look cool.