Is KFC Running Out of Chicken? The UK Faces Fowl Shortage
"The colonel is working on it."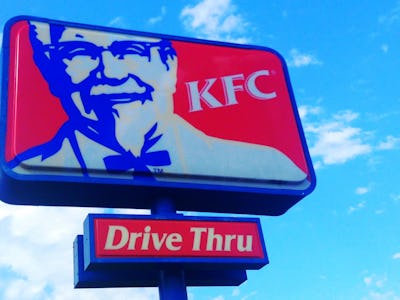 Flickr / JeepersMedia
More than half of the KFC stores in the United Kingdom remained closed on Tuesday morning after a supply chain snafu caused a chicken shortage across the country.
The shortage began on Saturday and persisted through the weekend. Dejected customers seemed pretty distraught about the fowl situation, which KFC has blamed on logistics problems stemming from their new food supplier.
Last week, KFC switched its chicken supplier from longtime partner Bidvest, a specialized food distribution company, to logistics company DHL. When the decision to change suppliers was announced in October 2017, DHL expressed confidence that the company would be able to streamline KFC's distribution process and set new industry benchmarks. "We want to deliver a new level of service to our restaurants and franchise partners, improve the quality of service to our customers and reduce our environmental impact – all to a level that has never been done before," DHL wrote in a statement at the time.
When the change took effect on February 13, however, operational issues began to interfere with chicken deliveries. As a result, more than 600 stores were forced to temporarily close up shop. KFC workers were encouraged to take time off while the situation is resolved, but they were paid their standard salary if they opted to help rectify the chicken mishap.
According to Buzzfeed News, some KFC workers took matters into their own hands and procured chicken from other sources. One KFC representative reportedly attempted to purchase all of the chicken in a London butcher shop.
The company has been working to get all of the restaurants open again, but as of 1 p.m. UK time on Tuesday more than half remained closed. KFC set up a website where consumers can check to see which locations have been affected by the dearth of poultry.
Of the stores that have reopened, some are operating with limited menus and shortened hours. A KFC spokesperson told BBC News that the situation is improving, but they expect some stores to remain for the remainder of the week.
The great KFC closure of 2018 really drives home the old adage: don't count your chicken restaurants until they have chicken to sell.