8 High-Tech Products to Ease You into a Smart Home
These cool gadgets will make your home life easier – but they won't spy on you.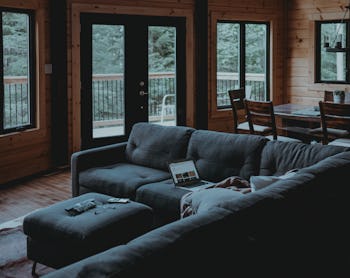 Unsplash / Annie Spratt
Try as you might to resist, smart homes are here to stay. In a perfect world, these new tricks, plug-ins, and gadgets make our home lives easier than ever to just live life. Wouldn't it be great to start preheating your oven from your couch? Isn't it the dream to watch TV without first scrambling for whichever remote or controller you need for whichever device? Things don't always work as smoothly in a smart home, and on top of it all, plenty of these new products flooding the market make great use of your data and voice (no matter what they claim) via always-on microphones.
So, here are eight cool, high-tech products to dip your toe into the smart home ecosystem that will no doubt improve your home life, without mining your private conversations for more information.
We've extolled the virtues of just having a couple of nice smart bulbs before, and there's no better place to start than the Philips Hue 4-Bulb Starter Set, which is more than enough to transform one room of your house. [Amazon, $195.99]
If you're not ready to yell at your TV to show you the latest episode of Preacher just yet, the ever-improving Apple TV is a perfect way to browse and enjoy all your favorite content delivery services. [Amazon, $149.00]
## 6. Ring Video Doorbell 2
Keep your home safe and your delivery guy happy with this all-in-one camera and intercom that pings alerts straight to your phone and computer. [Amazon, $169]
Smart plugs are a perfect way to convert even the oldest, least co-operative belongings into smart home devices in their own right. Connect the bulb to your wifi and your phone, and turn it on and off at the wall from the comfort of… well… wherever you are. [Amazon, $49.99]
An affordable and nifty way to bring your locks into the 21st Century. You'll never lock yourself out again, and that means never getting brutally fleeced by your locksmith ever again, too. [Amazon, $142.90]
The harmony Hub works with just about any device to bring a true universal remote experience. Control your Apple TV, your Xbox One, your MacBook, and many, many more, all from this one hub and app. Perfect for movie night. [Amazon, $78.80]
The Logitech Switch is a great way to set up a couple of smart home prompts without having to reach for your phone each time. The button supports three different inputs and settings. For example, tap it once to activate your preset "night time" smart bulb setup. Double tap it to turn on your heating. Nifty! [Amazon, $39.99]
Honestly, this is the most useful Amazon Dash button in the history of dash buttons. No longer will you frantically text your roommate from the toilet for another roll of Scott's from the corner store. A true luxury. [Amazon, $4.99]