'Seven Samurai' Actor Receives Deserved Posthumous Walk of Fame Star
Japan's Humphrey Bogart gets some respect.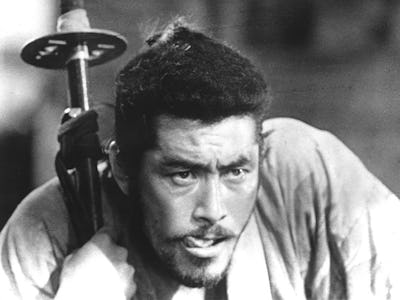 Prolific Japanese actor Toshiro Mifune, who passed away in 1997, is being honored for his body of work with a star on the Hollywood Walk of Fame. Along with the rest of this year's group of selected inductees, including Bradley Cooper, Quentin Tarantino, and Steve Carell, Mifune's contribution to cinema will be immortalized with a starry concrete slab on that famed boulevard.
Mifune appeared in 170 movies prior to his death but is best known for his long-term collaborative relationship with accomplished director Akira Kurosawa. Together they cranked out a total of 16 movies, with the pair receiving most praise for a handful of titles that remain cinematic classics to this day including Seven Samurai, Rashomon, and Yojimbo.
Throughout his career, Mifune played a no-nonsense, katana-wielding warrior. When he wasn't busy chopping his enemies in half, he was tuckering them out with insane horseback battles. His surly onscreen presence in those early years caught the attention of George Lucas, who at one point considered him for the roles of Obi-Wan and Darth Vader. Mifune opted to star in the U.S. TV series Shogun instead.
It's amazing to consider that an actor whose stoic warrior figure would go on to influence an entire subgenre is only just receiving a star. He now joins his compatriot Godzilla, a fictional lizard who got his star 11 years ago.