A Half-Million Candidates Apply for a Job at Tesla: Here's the Inside Track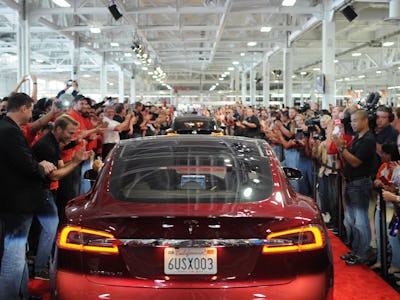 Flickr / jurvetson
Getting a coveted job at Tesla isn't easy. Elon Musk once said, "If you're at Tesla, you're choosing to be at the equivalent of Special Forces. There's the regular Army, and that's fine, but if you are working at Tesla, you're choosing to step up your game."
You'd think statements like this would keep job applicants away. Not so much.
As Fast Company reports, "Tesla received just shy of 500,000 resumes and applications" for about 2,500 open positions at the company in 2017."
It's a sought-after place to work. In fact, "Tesla took the number six spot on LinkedIn's recent ranking of the hottest companies to work for," based on competitive criteria.
To learn more, Fast Company sat down with Cindy Nicola, Tesla's vice president of global recruiting, for the inside track on getting a job at Tesla. Although she readily admits, "we don't have a formula… [But] we are looking for excellence."
So how can a job applicant get the company's attention? Diversity counts, but Nicola adds, "Not just visible diversity, but cognitive diversity… We are going to look at potential." And echoing Musk's nod to the Special Forces, Nicola emphasizes, "We are looking for people with grit."
However, Gaby Toledano, Tesla's chief people officer, explains that "failure is okay… We talk to candidates who have never built a car when we put them in a job to help us design and build a car. They're builders, they're curious, and [they're] problem solvers." Toledano adds, "We attract people who believe in what we are doing… we are mission driven and we're making history."
To that end, Nicola hints that if you aren't "in love with the mission, in the end, it can be problematic… The marriage has to work the first time." When asking candidates why they want to work at Tesla, "We want people to have a good answer." After all, Tesla likes to do things different compared to the traditional, legacy automakers.
Our recommendation: Before applying, learn what it takes to work at Tesla.
Article originally published on evannex.com by Matt Pressman. EVANNEX offers aftermarket accessories, parts, and gear for Tesla owners. The Florida-based company also maintains a daily blog on the latest Tesla news. Source: Fast Company.