'Black Panther' Costume Designer Found Surprising Inspiration from Superman
Hollywood costume designer Ruth Carter took after the Man of Steel to outfit the King of Wakanda.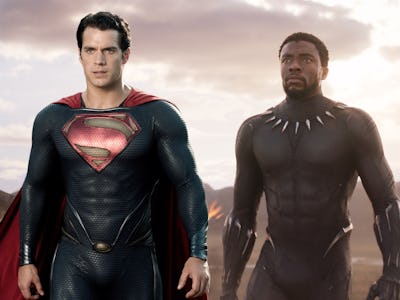 Warner Bros.
In Marvel's Black Panther, the newly-crowned King T'Challa (Chadwick Boseman) gets a new, upgraded costume courtesy of his sister, technological wunderkind Shuri. But in the real world, the suit was the work of Oscar-nominated designer Ruth Carter (Serenity, Selma), who took inspiration from another major superhero: Superman.
In an interview with Inverse on Tuesday, Carter revealed that the new, sleeker catsuit in Black Panther was designed with the "thinnest" jersey material, which she described as "like a nylon." Carter was warned not to use the thin material because it doesn't play well for stunts, but she insisted because it reminded her of Superman's costume in the 2013 Zack Snyder film Man of Steel.
"When I observed Superman's suit and his texture, I could actually see the musculature underneath was silver. I thought this is fabulous for the Black Panther," Carter told Inverse. She reasoned that there must be a "silver" quality, in order to tell the story of Wakanda's use of the precious metal, vibranium.
"We're gonna use that suit, make it 'vibranium,' because it needs to feel laced in vibranium and have luminosity. The muscles needed to have the highlights that the silver would give underneath," she says.
Carter humorusly leans in to the audio recorder, to emphasize her point: "That's why I stuck to the thin fabric."
For 2013's Man of Steel, actor Mackenzie Gray told MovieWeb that costume designer Michael Wilkinson created Superman's suit in three layers, which included "a silver, metallic rubber" that served as a "muscle layer" molded to Henry Cavill's body. Wilkinson himself described the layer as evocative of a "man of steel," in a 2013 interview for Clothes on Film.
"We wanted to evoke a 'man of steel' – so our metallic finish has an ambiguous quality, as though it's an alien metal/armour unfamiliar to us on Earth," he said. "We wanted our Superman to glow on screen, to create a texture that the camera loves, and make him stand apart from the human race."
Wilkinson also told Batman-News that he embedded Kryptonian script onto Superman's outfit. Carter did the same for Black Panther, allowing the Panther suit to "light up" in Wakandan as the costume builds up kinetic energy, though Carter says she arrived at the idea independently.
"The Wakandan langauge circulates around like veins when he's met with kinetic energy," Carter says. "The Wakandan language 'lights up.'"
One person thankful for Carter's lighter redesign was Chadwick Boseman. Looking back to his costume in 2016's Captain America: Civil War, Boseman said the outfit was "suffocating."
"Literally, it closed off every possibility of air getting to you," he told Variety in its February 2018 cover story. Now, Carter's costume "begins to feel like skin after a while."
"It was a heavier suit," Carter says of the first Black Panther costume. "It was beautiful in its design, wrapped in Vibranium, but it was heavy duty. It was the 'industrial' version." And for Wakandans, there is no room for limits. "Now he doesn't have to have that bulky suit."
Marvel's Black Panther hits theaters on February 16.