Why You'll Never See Zack Snyder's Cut of 'Justice League'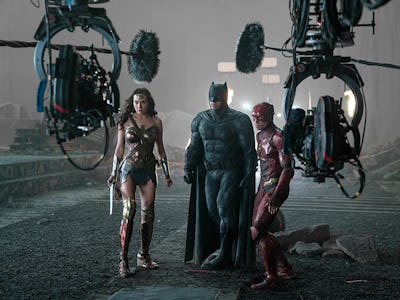 Warner Bros. Pictures
Fans left underwhelmed by the DC superhero film Justice League have been clamoring for Warner Bros. to release a so-called "Snyder Cut," a version of the film directed by Zack Snyder without the work of Joss Whedon who filled in for reshoots following Snyder's departure. Now, fans will have to keep hoping, because the "Snyder Cut" of Justice League, which has been described as "unwatchable," may never be released.
On Saturday, film journalist Josh L. Dickey, whose work is best known for hard industry reporting for Variety, Mashable, and the Associated Press, announced on Twitter that he was leaving the business. In a multi-tweet thread in which Dickey looked back on his biggest scoops, he revealed that Snyder was actually fired by the studio months before he formally announced his exit from Justice League to deal with family matters (Snyder's daughter, Autumn, died by suicide in March 2016).
On Monday, Matt Goldberg of Collider added to Dickey's tweet, writing that Snyder's drafts of the film were "unwatchable."
"Since I'm shifting into DGAF ["Don't give a fuck"] mode, here's a hot one for ya: Zack Snyder was fired from the DCEU just over 1 year ago," Dickey tweeted last Saturday. That would put Snyder's firing to February 2017. Snyder announced his exit to The Hollywood Reporter in May 2017.
"Couldn't write it ~quite~ that way at the time, but was able to tapdance around it [clumsy/oblique headline not mine]," Dickey added. In his story, for Mashable, Dickey wrote that Snyder "will take a significantly smaller role with the franchise going forward."
On Colldier, Goldberg added that he too had heard Snyder was fired from Justice League, as opposed to a conscious exit (though it's still very likely Snyder's family matters played a big role in why Snyder left production). "I'd heard similar things from separate sources over the last year as well," wrote Goldberg. "I also heard that Snyder's rough-cut of the movie was 'unwatchable' (a word that jumped out at me because it's rare you hear two separate sources use the exact same adjective)."
Goldberg added that "there's obviously more to the story since rough cuts can be fixed up with reshoots, rewrites, etc." That means it's possible Snyder's cut of Justice League is literally unwatchable, because "assembly cuts" — the very first cut of a film, like a rough draft — is always going to be clumsy and long. And with a CGI-heavy film like Justice League, that probably meant lots of pre-rendered effects and unpolished sound mixing.
In a November 2017 interview with Inverse, Justice League's sound editor Scott Hecker said an early cut was over three hours long. "So naturally many scenes and sounds are left on the proverbial cutting room floor," he wrote in an email.
Does a "Snyder Cut" of Justice League exist? Probably, definitely. But is it a mythical "Director's Cut" that are often labeled seen on masterworks such as Blade Runner or Superman II? Probably not. Unfortunately, fans won't know for sure, at least for now.
Justice League is available now in Digital HD. It will be available on Blu-ray and DVD on March 13.