Who Is Kehinde Wiley? Obama's Portraitist Has an Amazing Portfolio
Wiley explores themes of heroism and prestige.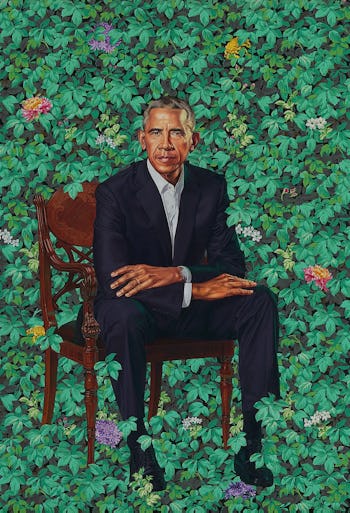 Kehinde Wiley/National Portrait Gallery
Barack Obama's presidential portrait was unveiled at the National Portrait Gallery on Monday. The image, which depicts the 44th president sitting in a chair in front of a background of green foliage, was painted by the artist Kehinde Wiley.
No matter who the president might be in that chair, the portrait is a visual stunner:
It's fitting with Wiley's well-defined style. The subject though, is a departure for the artist, who are often, as the Village Voice described in 2015, "young people of color who in these pictures are gussied up in the trappings of art history or Givenchy." Jessica Dawson, the writer of that review of his work from three years ago in the Voice may as well have predicted Wiley would one day paint Obama: "Where once was a powerful white man, Wiley inserts a firm piece of African-American flesh." When it comes to a job exclusively held by powerful white men before Obama, her words from March 2015, resonate as something approaching prescience.
Wiley was born in and raised in Los Angeles, California. He's a professionally-trained artist, earning a Bachelor of Fine Arts from the San Francisco Art Institute and a Masters in Fine Art from Yale University. His other works show off his artistic approach in vibrant, memorable style:
Wiley was already well-known in the art scene before he was tapped as Obama's portraitist. The prolific painter focuses his work on themes of race and heroism, often depicting black and brown people in poses that were historically reserved for rich, white European men. According to Wiley's website, many of the subjects in his early work are drawn from photographs of young black men in the streets of Harlem.
The results are striking. By borrowing stylistic elements from classical portrait painting and applying them to black and brown figures, Wiley encourages the viewer to contemplate the relationship between prestige and appearance. He both adheres to conventions and upends them.
The Obama portrait fits within the same style. In depicting the former president in a seated position imposed over colorful plant life, Wiley departed from years of tradition. Generally, presidential portraits are characterized by muted tones, conservative images of former presidents standing in the oval office.
Of course, Obama isn't most presidents, and Wiley isn't most painters. When President Obama first selected Wiley, it was clear that he was making a deliberate decision to individuate his portrait.
You can see more of Wiley's work on his Instagram.