Read Exclusive Excerpt From 'Mister Miracle Director's Cut' 
Revisit the first issue in a new black-and-white format in an Inverse-exclusive preview.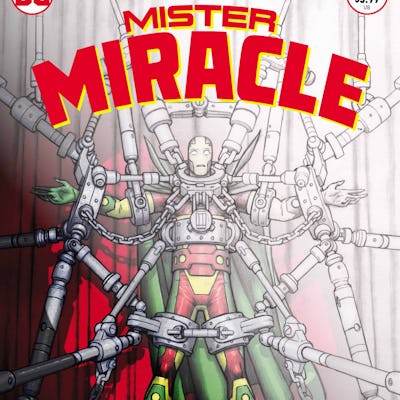 DC Comics
Under the care of Batman writer Tom King and artist Mitch Gerards, one of Jack Kirby's most bizarre creations ever became one of the best new comics of 2017. Mister Miracle, which kicked off last August, will rerelease its first issue in a special Director's Cut format on February 14, and Inverse has an exclusive preview.
On Valentine's Day 2018, DC Comics will release Mister Miracle #1 Director's Cut, a special black-and-white rerelease of Mister Miracle #1 released last August. Like all good "Director's Cut" releases, the reissued Mister Miracle will contain pages of Tom King's script for the series, as well as a new eight-page origin story written by King and illustrated by Mike Norton, of DC's Mystik U.
Inverse has an exclusive look at the new black-and-white pages of Mister Miracle #1, as well as Scott Free's new origin story.
For those getting acquainted with Mister Miracle for the first time, imagine Jesus Christ as an escape artist. That's what King learned about Kirby's Fourth Worlds hero, who made his debut way back in 1971.
"When I first started doing this project, I started talking with creators like Mark Waid and one of the things I came across was people saying, 'You didn't know Mister Miracle was Jack Kirby's Jesus?'" King told Paste in a May 2017 interview. "He's Jesus as an escape artist. That's utterly ridiculous, but the writer in you is like, I get to play with Jesus as an escape artist."
In an interview with Inverse back at New York Comic Con 2017, King described Mister Miracle as "the most ambitious thing" he's ever done. "Mitch and I talked about what we want to do. We want to do Frank Miller's Dark Knight Returns and All-Star Superman, and we said, 'Can we do that?'"
The answer, King and Gerards realized, was a hard no. "But we'd be stupid not to try," King said.
Born Scott Free, Mister Miracle is the son of Izaya Highfather, ruler of New Genesis, who exchanged sons with the evil Darkseid in a gesture of peace. Scott, who grew up without knowing his family, rebelled against Darkseid, and eventually fled to Earth, but not before meeting Big Barda, one of Darkseid's "Female Furies," who would become his wife.
On Earth, Scott befriended Thaddeus Brown, an escape artist going by the name Mister Miracle. After Brown was murdered, Scott donned Brown's mantle of Mister Miracle and sought revenge. But as Freddie Mercury once said, the show must go on, and Scott continued his late friend's work by touring the world as Mister Miracle (while also serving as a founding member of Justice League International with Batman).
In 2017, DC relaunched Mister Miracle under the ace team of King — whose 2016 series The Vision for Marvel also reinvented a classic creation in a breathtaking new light — and Gerards, who defined himself as a creative force illustrating King's 2015 series The Sheriff of Babylon for Vertigo.
But it was the harrowing experience of waking up in an emergency room after a panic attack that made King confront his own mortality. It was that episode that inspired King's primary vision for Mister Miracle.
"I'd flirted with the edge of death and came back from it, and I woke up and the whole world seemed different," King told Paste. In talking to Inverse, King said that Mister Miracle is a way for him to reason that the world "does not make sense anymore."
"This is me trying to comment on our time period, trying to comment on the insanity," King said. "Not to talk about politics but I know we're all waking up every day at the news and we're just saying, 'What the fuck just happened?' The world does not make sense anymore. And I wanted to write about that, that paranoia, and the responsibility of an artist in a crazy time like this is to bring that shit out, so we can deal with it a little bit."
Upon its release in 2017, Mister Miracle was one of the most acclaimed comics from a mainstream publisher. The comic topped several end-of-year "Best Of" lists, including The AV Club, Paste, iO9, Entertainment Weekly, and Polygon.
"Kirby was 54 when he created the Fourth World, and it was 1971. And yet, the characters feel like they could have walked onto the page in 2017, from a modern creator at the top of their game," wrote Susana Polo for Polygon in December 2017. "Mr. Miracle is fully operatic in story and setting but still feels full of familiar emotions and resonant themes. The fact that his Fourth World work was brazenly anti-fascist only helps, though I wish it didn't."
Below, Inverse has a sneak preview of the new, reimagined origin story of Scott Free, a.k.a. Mister Miracle, written by King and illustrated by Mike Norton.
Mister Miracle #1 Director's Cut will be released on February 14.