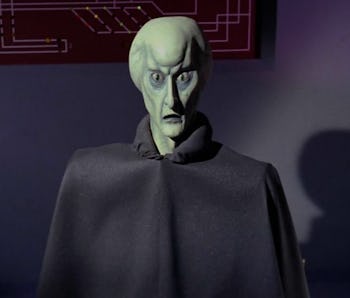 Entertainment
The Deepest Cut in the 'Star Trek: Discovery' Finale Wasn't the Enterprise
CBS
There were a lot of deep cuts in the Season 1 finale of Star Trek: Discovery, and some fairly obvious, huge references to Treks of the past. But there was one hidden cameo that some fans might have missed, which interestingly, has a Star Wars connection, too.
On Sunday, the Season 1 finale of Star Trek: Discovery aired and Tilly accidentally got high with a creepy little alien. Making a brief cameo appearance as the shady Orion is actor Clint Howard, brother of Ron Howard. To Trekkies, he's most famous for playing a laughing alien baby in the original series episode "The Corbamite Maneuver." After trying to trick the Enterprise crew into thinking he's a scary, old-school looking alien (pictured above), Balok (Howard) reveals himself to be a kind little soul after all. Howard was obviously a child when he took this classic Star Trek role on but has appeared in two Trek spin-offs prior to his latest turn on Discovery. He played a human in a time-travel Deep Space Nine episode called "Past Tense" and also a Ferengi in an Enterprise episode called "Acquisition."
Discovery showrunners Aaron Harberts and Gretchen J. Berg tell Inverse that Howard's return to Star Trek was connected to his friendship with executive producer, Akiva Goldsman.
"Akiva is friends with Clint," Berg says, "and he's a huge Star Trek fan. It just seemed like a wonderful opportunity."
"We sort of created the part for Clint," Harberts says. "Thank god Clint was available. And Clint has been in almost every iteration of Star Trek. So we had to have him on Discovery. My spouse, Scott, says Clint Howard is one of his favorite actors."
Howard's career isn't just limited to cameos on Star Trek. He's been in numerous films, including several projects involving his brother, Ron Howard. The younger Howard can be seen in Apollo 13, had a part in Arrested Development, and is set to have a cameo in Solo: A Star Wars Story.
In "The Corbomite Maneuver," Balaok's drink of choice was called "traya," which looked like a boozy orange juice, the outer space version of a screwdriver. Maybe next season, traya will make a comeback on Star Trek: Discover.