Marvel Reveals Future of Netflix Shows Once Disney Launches Streaming Service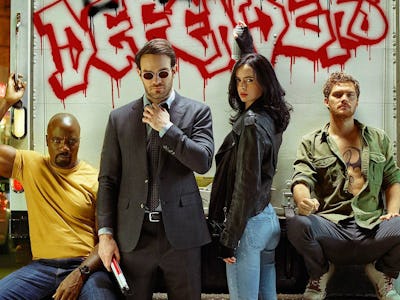 Netflix
Disney, the all-powerful House of Mouse, is about to launch a streaming service of its very own. Since Disney owns Star Wars, Marvel, and now Fox, that service won't be lacking for franchises that fans will want to binge, but the future of Netflix's Marvel shows was unclear. Would Netflix get to keep Daredevil, Jessica Jones, and the rest of the Defenders gang?
Yes — for now, at least.
Deadline reports that the service, which should launch in Fall of 2019 with a Monsters Inc series and Marvel and Star War shows. However, the report states that Disney plans to leave existing Marvel series where they are, meaning The Defenders will remain on Netflix and The Runaways will stay put on Hulu. (Agents of S.H.I.E.L.D. airs on ABC, which is already owned by Disney, so there's presumably no issue there.)
It's unclear at this point how much the streaming service will cost, but Disney has made one thing clear: There will be no R-rated content in the film and TV library, according to Deadline. Anything R-rated would head over to Hulu.
There's no word just yet about how — if at all — Disney's newly acquired Fox assets like the X-Men, Alien movies, and Independence Day will appear on the streaming service. They're figure something out, no doubt.
In other Disney streaming news, Disney CEO revealed that there's a lot of Star Wars content planned for the streaming service During the company's quarterly investors call, Iger mentioned that they're "developing not just one, but a few Star Wars series specifically for the Disney direct to consumer app."