'Venom' Movie Poster Offers Our First Official Look at the Symbiote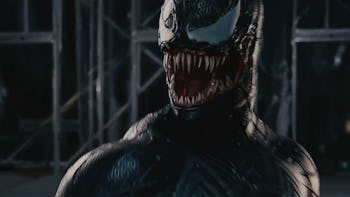 Columbia Pictures
We've finally got our first official peek at what the dark symbiote might look like in Venom in a brand-new poster, and we'll probably get a lot more "tomorrow."
On Wednesday, Sony released the first official poster for Venom, which is pretty much the poster that we all could've predicted: a black background with Venom's huge, amorphous white eyes prominent. The eyes look like they were sloppily painted on with a big paintbrush, but in a cool way that resembles the actual texture of the venom suit.
What's even more interesting is that the film's official Twitter account published a photo of the poster along with the caption, "Tomorrow."
And last week, a Canadian classification board supposedly rated a 90-second trailer for Venom, which led most of us to believe that a trailer for the film would drop any day now.
Between that information and the cryptic tweet today, they must be releasing a trailer tomorrow, right? The entire internet certainly thinks so.
Ruben Fleischer is directing the Venom movie with Tom Hardy starring as Eddie Brock. The cast also includes Woody Harrelson, Riz Ahmed, Michelle Williams and Jenny Slate.
In both the comics and the first Spider-Man film trilogy, Eddie Brock becomes Venom after a pile of sentient black alien goop — called a "symbiote" — attaches to Peter Parker, copies the powers of Spider-Man, and then attaches to Brock. The movie will, supposedly, ignore most or all of the Spider-Man origin story of Venom in favor of exploring two Marvel comics storylines from the Nineties.
Thus far, aside from random set photos and videos, we've only gotten an official look at Eddie Brock without the Venom costume at all. Between this new poster and the trailer that presumably will come out tomorrow, fans are about to get a lot more.
Venom will be released in theaters on October 5, 2018.