Google's Rumored Next Big Purchase Could Change New York City Tech Forever
Investing in New York real estate.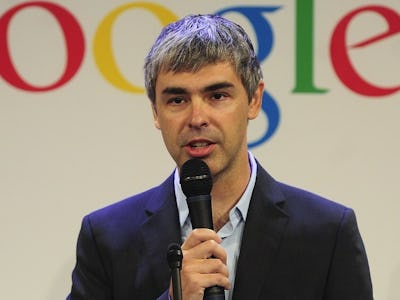 Google
Google will reportedly close a deal in the next two months to acquire the Chelsea Market building in downtown New York. The purchase is expected to cost more than $2 billion, according to a report Tuesday in the New York real estate publication The Real Deal.
This isn't the tech giant's first move into what appears to be a straightforward real estate acquisition. The purchase of the Chelsea Emporium, located across the street from Google's New York headquarters, has caused excitement in both the real estate market and the tech industry as to what the rumored purchase could mean for the company's future plans.
While Google — or its parent company Alphabet — isn't likely to decamp from its global headquarters in Mountain View, California, anytime soon, the rumored purchase likely means an increased emphasis on the company's presence in New York. The existing New York offices are especially focused on Google Drive, Search, AdWords, and Maps.
As for tech founders in New York, the investment in the city's real estate is an exciting one, especially when it comes from a business empire like Google.
"Chelsea Market is a special place to both native New Yorkers and millions of others," Sam Gerace, CEO of digital business card platform Convey, tells Inverse. "Its creative culture is a natural fit for Google's continuously evolving business. The company's presence in the area increases the diversity of talent they can attract, something that is priority for all companies in the 21st century."
By committing to expanding its presence both culturally and physically, Google is demonstrating its interest in moving its presence beyond just tech innovation to be more of a community member in New York. That excites Gerace.
"Study after study has shown that ad hoc human interactions are necessary for continuous innovation," he says. "Physical workplaces foster random connections, while remote presence technologies don't."
The acquisition will give Google a whopping 1.2 million-square-foot property for more than $2 billion, located at 75 Ninth Avenue in Manhattan, complete with office and retail space.
The Chelsea Emporium also counts many shops and restaurants, along with Major League Baseball and the Food Network, as tenants. Google was previously leasing about 400,000 square feet inside the building, though it's reportedly been outgrowing the space occupied.
This rumored purchase would be similar to last year's acquisition of land Silicon Valley, in which Google purchased 52 properties near its Mountain View campus for $820 million. Google hasn't exactly disclosed how it plans to use the land, though reports at the time indicated the company likely needed room to expand for its more than 72,000 employees.
A similar need to give its workforce more room is likely in play for Google in New York, but Gerace says the company can't help but have a deeper impact as it expands its New York footprint.
As Gerace puts it: "The net impact of Google's Chelsea Market move will at the end of the day harbor a creative culture, a diverse workforce, and a strong foundation for continued innovation."