Google Has Become Alphabet
How will the world take to the world's most interesting company becoming a whole new brand?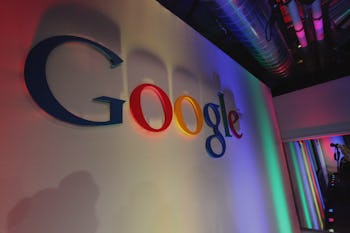 Google will split off and become part of the holding company Alphabet tonight. The announcement that "Google" would change from lead brand signifier to subsidiary of Alphabet came in early August. For today, it essentially means that the wording on stock options will change. Google will still trade as GOOG or GOOGL, though probably not for long.
The change makes Alphabet the parent company of Google, which will manage search, Android, YouTube, Maps, and Google Apps. Other subsidiaries under Alphabet's control will be Nest, Google Ventures, and GoogleX. The move was undertaken to appease investors, giving greater transparency to the returns Google is getting on projects under an increasing number of banners. Each subsidiary will have its own CEO, which will also increase internal accountability. Sergey Brin will serve as Alphabet's president.
How has the business world treated companies that changed their names this far into the game? Significantly, Apple underwent a name change — from Apple Computers to Apple, Inc — in 2007. It was then-CEO Steve Jobs' attempt to reflect Apple's growing and diversifying suite of products. Following the change, Apple's stock rose steadily through 2007, from about ten dollars a share to $28 — but this increase also coincided with the release of the first iPhone as well as AppleTV.
Google hasn't had any comparable product announcements — not yet, anyway — but with the self-driving car technology gathering momentum and services like drone delivery poised to revolutionize supply chain management, GOOGL/Alphabet could have at least as big a year as the rebranded Apple, Inc. did eight years ago.
What will be more likely, and more interesting to pay attention to will be how Google's — ahem, Alphabet's — asset allocation alters under this new arrangement. More transparency means more competition for resources, and while Google/Alphabet's cash flow is unlikely to suffer greatly, it will make for good theater seeing the now seven-different CEOs make their varied cases to Brin.