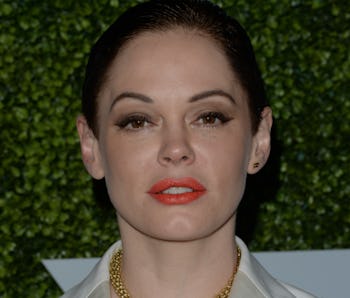 Innovation
Why Honesty Was the Best Policy for Rose McGowan
Making lemonade out of Hollywood's bitter, sexist lemons.
Last week, actor-director Rose McGowan posted a screencap of a hilariously-sexist script note to Twitter. Hilarious, because at first glance it seems like it's a prank. Sadly, it's not. The written directions on the note asks that women actually read the script beforehand "for context" and arrive at the audition in a tight top emphasising their cleavage - with push-up bras encouraged. Yes, it's gross. Yes, it's for an Adam Sandler movie.
Many cheered McGowan on, applauding her bravery for calling out Hollywood on its double-standard nonsense. However, one person who failed to see her action as a step toward transparency in gender equality was her agent.
The brassy McGowan, who has spoken out repeatedly on the topic of sexism in the industry, was fired. Instead of stomping her feet and rallying sympathy to prove her point, McGowan did the exact opposite and used the incident to forward the very movement she so fiercely advocates. She found humor and strength in what many would find a demoralising turn of events.
Her infectious positivity made waves with her followers:
And she continued to champion the benefits of creativity:
At the core of this entire incident lies an ugly truth about Hollywood that's barely hidden but largely ignored. And by choosing to shine a spotlight on that issue - in publicizing details many celebrities would choose to keep private - she has emerged as a victor in this battle. News of her firing caught the attention of every major media outlet, with EW even scoring an interview to delve into the matter at greater length, and she is currently (at the time of writing) trending on Twitter.
While no one likes getting fired, it couldn't come at a better time for McGowan. Her directorial debut short Dawn premiered at Sundance 2014 to rave reviews, and was subject of a special screening at the Lincoln Center last night. In light of her firing it will more than likely reach a wider audience keen to support McGowan - who made the flick freely available via her YouTube channel. You can count me in that group of supporters, so feast your eyes on the film below.
So…. when's she gonna get a call from Kevin Feige about directing Captain Marvel then?