This Chart Reveals Why Bitcoin's Price Crash Could Get Worse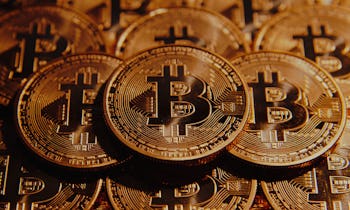 Bitcoin
The price of a bitcoin has dropped below the $7,000 mark, and a chart going viral could explain why. The cryptocurrency market continued its decline on Tuesday, leaving investors concerned that the late December price spike was a short mirage rapidly disappearing.
Bitcoin, which still accounts for 35.5 percent of the cryptocurrency market's total value, slumped five percent over the space of 24 hours to reach $6,953. Ethereum dipped to $700.51, a 2.4 percent drop in value, while worst performer SmartCash dropped 14.6 percent. A market valued at $831 billion on January 8, less than a month ago, is now worth less than half that at $330 billion.
A chart shared around finance circles suggests things could get worse before they get better. Chris Weston, chief market strategist for trading platform IG, shared a chart that depicts how a bull market works for a particular asset, compared with the chart as it stands today. The results are almost frightening:
It's not the first time the chart has been compared to bitcoin, but its near-perfect alignment is alarming. The graph was created in 2008 by Jean-Paul Rodrigue, professor at the Department of Global Studies at Hofstra University. It depicts four parts for a bubble:
The stealth phase, where early adopters start to hop on board as they realize an opportunity is developing.
The awareness phase, where hype starts to build momentum.
The mania phase, where the bubble hits its peak as amateur investors pile in.
The blow-off phase, when the value of the asset crashes.
If Bitcoin continues to follow this model, it could mean the blow-off phase will be brutal. As Rodrigue himself writes about this phase:
Prices plummet at a rate much faster than the one that inflated the bubble. Many over-leveraged asset owners go bankrupt, triggering additional waves of sales. There is even the possibility that the valuation undershoots the long term mean, implying a significant buying opportunity. However, the general public at this point considers this sector as "the worst possible investment one can make". This is the time when the smart money starts acquiring assets at low prices.
However, not everyone is convinced that a crash at this point would mean the end of Bitcoin's rise.
"We've been here a thousand times before, it's gone up, it's gone down, it's not new," Chris Wilmer, professor at the University of Pittsburgh and co-author of Bitcoin for the Befuddled, told Inverse last week. Wilmer cited a 2011 article in Wired hailing the end of the currency after the price dropped from $29.57 to less than $5. Bitcoin would go on to reach highs of $19,535 in December 2017.