Why Is Ethereum, Bitcoin Crashing? Cryptocurrency Reacts to Rules
Whether it's a long-term dip is another question.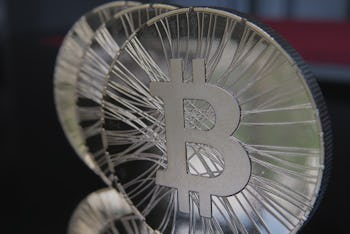 Flickr / antanacoins
Cryptocurrency had a bad day on Friday, with over $100 billion in total market value shed over the space of 24 hours. The industry faces regulations from India, South Korea and others, while controversies surrounding exchanges have caused fear among investors. However, watchers following the market are less concerned that this points to a long-term drop.
Losses were reported across the board. Bitcoin cemented its position below the $10,000 mark, dropping nearly seven percent over the space of 24 hours to reach $8,703. Ethereum dropped 15 percent to reach $927.78 per token. The worst performer of the day, Ardor, dropped almost 25 percent in value to reach a total market cap of $470.7 million. Out of the 100 largest cryptocurrencies, 92 reported losses over the 24-hour period.
But while the short-term figures seem bad, watchers are less concerned as they see long-term value in cryptocurrency.
"We've been here a thousand times before, it's gone up, it's gone down, it's not new," Chris Wilmer, professor at the University of Pittsburgh and co-author of Bitcoin for the Befuddled, tells Inverse. Wilmer pointed to a 2011 article in Wired entitled "The Rise and Fall of Bitcoin" where the price dropped from $29.57 to less than $5. Bitcoin would go on to reach highs of $19,535 in December 2017.
In the cryptocurrency subreddit, users shared tips about the ongoing dip. A user called ninemiletree, whose comment reached the top of the daily discussion, quelled fears about a permanent drop:
Cryptocurrencies are here to stay. They will only get bigger, more ubiquitous, and more well adopted. As they grow, we'll continue to see fluctuations. Many bad projects will die or change or evolve. But the market will continue to grow. These dips are where smart money buys in.
The drop comes as regulators seek to crack down on unlawful uses for crypto. India's finance minister, Arun Jaitley, said in a budget speech on Thursday that the government would take "all measures to eliminate the use of these cryptoassets in financing illegitimate activities."
Another source of worry is the new rules put into effect by the South Korean government's Financial Services Commission on January 30. This is aimed at cutting down on illegal activities conducted through cryptocurrency trades, with rules like running transactions through real-name accounts and mandating banks to refuse service to exchanges that don't check user's identification. On the day the rules came into effect, the price of bitcoin dropped 7.5 percent, and 91 of the 100 largest tokens dipped in value.
The drop also follows in the wake of controversy around exchange practices. Coincheck, a Tokyo-based exchange founded in 2012, halted all withdrawals last month after a major hack led to the loss of over $500 million in cryptocurrency. A New York Times story published this week also stoked fears that an exchange called Bitfinex had helped manipulate the price.
Whether Friday's dip points to a long-term decline, or whether the market will jump back at some point, depends on whether cryptocurrency has the potential to take in more market value in the future.