False Tsunami Warning from AccuWeather Enrages East Coasters
Why does this keep happening?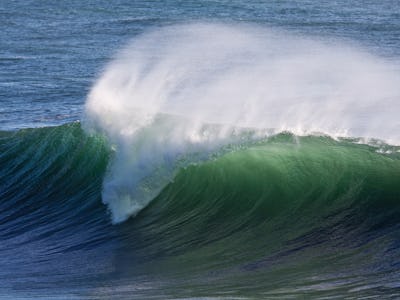 Michael Dawes
On Tuesday morning, some sleepy East Coasters received a push notification on their phones warning of a tsunami. Despite the orange alert notification, and a loud, wide bar that some saw across their screens inside the AccuWeather app, the warning turned out to be a test.
The National Weather Service quickly tried to clear matters up on Twitter early Tuesday. "There is NO current Tsunami Warning, Advisory, Watch, or Threat for the U.S. Please refer to http://tsunami.gov and @NWS_NTWC for up to date information," it said.
Still, the alert was real enough looking to freak out plenty of people with an ocean view.
The glitch seemed to be specifically coming from the Accuweather app. Although Twitter was on fire with nervous and frustrated New Yorkers Tuesday morning, according to the NWS, the false alert managed to hit phones as far away as the Gulf of Mexico and the Caribbean.
"The test message was released by at least one private sector company as an official Tsunami Warning, resulting in widespread reports of tsunami warnings received via phones and other media across the East Coast, Gulf of Mexico, and the Caribbean," NWS said in a statement. "We're currently looking into why the test message was communicated as an actual tsunami warning and will provide more information as soon as we have it."
It wasn't immediately clear if this applied to everyone who opened their phones, but for Houston, clicking through the warning led users to a screen that clearly showed the warning to be a test.
Still, for areas that were recently battered by hurricanes, it would have been a shock to the system to discover a tsunami was now headed inward.
If this all sounds a bit familiar, it's because a false text warning of an imminent ballistic missile was issued in Hawaii on January 13. That alert, which was sent out to phones, radio stations and TV stations, was because someone pressed the wrong button, according to Hawaii Governor David Ige.
Hopefully this doesn't become a trend.