Elon Musk Celebrates Falcon Heavy Success by Revealing Surprise in Payload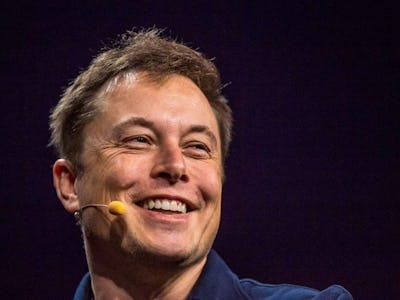 Elon Musk
With SpaceX's most historic launch under its belt, Elon Musk is feeling justifiably ecstatic. He took a victory lap by sharing with all his social media followers by sharing an easter egg inside of the red Tesla Roadster he launched into space to all of his social media followers.
"Printed on the circuit board of a car deep in space," the SpaceX founder shared on Twitter and Instagram, revealing an inscription that reads "Made on Earth by humans."
Enter the Elon Musk Gear Giveaway
Musk's intention is for the car to remain on its lonely orbit around the sun — one designed to pingpong it between the Earth and Mars — for millions of years, so it makes sense to leave a message to future civilizations that might find it while passing through our lonely solar system. It's SpaceX's answer to the Golden Record placed on NASA's Voyager spacecraft for their slow trek into the cosmos.
The Falcon Heavy's successful first launch is an enormous accomplishment that took more than seven years of planning, so it makes sense that Musk is doing a victory lap. Though it was supposed to launch back in 2013, the rocket has faced a series of setbacks that prevented it from taking off. Even Tuesday, the launch was pushed back to 3:45 p.m. Eastern due to wind conditions at Cape Canaveral.
But the result was more than worth the wait. The aerospace community is collectively applauding the achievement, which shattered records in the sector.
SpaceX's official Twitter joined in that choir of cheers, tweeting "Liftoff!".
So much could have gone wrong on this mission — a fact Musk himself repeatedly acknowledged in interviews.
"There's, like, a lot that can go wrong there … it's guaranteed to be exciting," Musk said at the 2017 ISS R&D Conference in Washington, D.C. back in July 2017. "There's a lot of risk associated with Falcon Heavy, a real good chance that that vehicle does not make it to orbit."
He doubled down on that message as recent as December, setting the bar extremely low — understandably so.
"Falcon Heavy to launch next month from Apollo 11 pad at the Cape," Musk wrote in a tweet from December 1, 2017. "Will have double thrust of next largest rocket. Guaranteed to be exciting, one way or another."
It seems under-promising and over-delivering paid off in this case. Congrats to Elon and everyone at SpaceX. Ad astra indeed!
Additional reporting by Rae Paoletta.