10 Items We Need Sold From Amazon's Treasure Truck
Amazon wants you to buy stuff from a giant truck, because the internet is too confusing.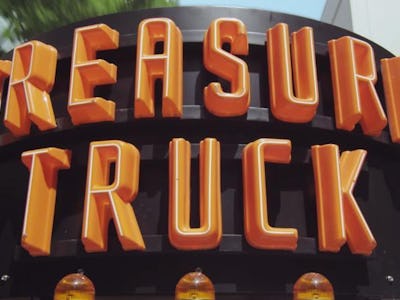 Amazon
Today in "we live in the future and the future is nonsense": Amazon announced a new delivary program called the "Treasure Truck". The idea is simple enough, instead of sitting online waiting for the latest deals to appear, Amazon and its Treasure Truck will drive around its homebase Seattle selling a single item for a deeply discounted price.
The hook of the truck — beyond being a traveling billboard — is to get people to use Amazon's mobile app to discover what new product is available and have them create delivery points for the mystery product. Right now this strange mix of Amazon's Gold Box Deals and a food truck will only be available in Seattle and will be beginning this Saturday. Once seeing the story, our minds got to racing about potential deals that could be offered from the Treasure Truck.
1. 17 lbs of Concord Grapes - Suggested MSRP: $55.99 , Treasure Truck Deal: $11.99
Grapes can be oddly expensive for such small fruits, but Treasure Truck's got the back of the people. Just be quick about snapping up this product before the truck is just left with some raisins.
2. Live Snail Combo Pack - Suggested MSRP: $13.50, Treasure Truck Deal: $3.15
Nothing like waking up on a Saturday morning and jumping into the car to buy some fresh snails when one could've just picked up some off the side of the road, but where is the #branding in that?
3. 144 Toothbrush Monster Pack - Suggested MSRP: $125, Treasure Truck Deal: $20
4. 24 Pack of Bottled Water - Suggested MSRP: $10, Treasure Truck Deal: $0.74
A water bottle for a dollar, crazy. 24 water bottles with enough spare change to buy a free-range gumball, yes!
5. A Beach Cruiser - Suggested MSRP: $199.99, Treasure Truck Deal: 29.90
No better reward for chasing a giant branded truck around a city than a brand new bike!
6. 196 Packs of Organic Toilet Paper - Suggested MSRP: $112.99, Treasure Truck Deal: 13.99
No decent person should use a toilet paper roll more than once. Don't worry, the Treasure Truck has got your back with this 196 case of toilet paper.
7. 32 Pounds of Roasted Almonds - Suggested MSRP: $79.99, Treasure Truck Deal: $11.99
California may be in a drought and almond prices may be skyrocketing because of it, but the Treasure Truck doesn't care and has the deal on nuts on deck.
8. That Really, REALLY, Big Lego Set - Suggested MSRP: $249.99, Treasure Truck Deal: $20.99
It may be June, but Christmas shopping is a year-round sport when you're knee deep in the deals game. Grab this Lego set now. When Christmas comes around, instead of Santa delivering disappointment and a lame edutainment toy, let the kids experience a real joyous Christmas day.