Should NFL Players Protest? Study Says Opinions Follow Political Party Lines
The NFL has become divisive for more than just fan loyalties.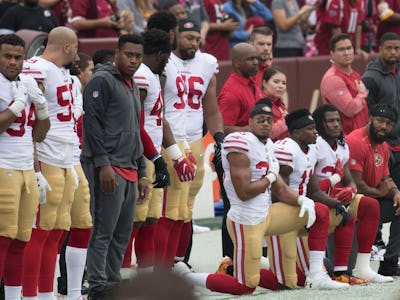 Keith Allison
The Superbowl is arguably the biggest event of the year in American sports, and Sunday's game is expected to draw upwards of 110 million viewers.
But the big event that has brought Americans together — in front of their respective televisions, at least — has been divisive in recent months, as players have taken their knees or seats during the national anthem to protest police brutality and audiences have alternatively cheered or protested their actions.
Now, a new study from California's Chapman University confirms what many have long suspected: that how viewers feel about the protests follows political party affiliation, with Democrat-identifying respondents support (88 percent), defend (92 percent), and perceive as patriotic (73 percent) the players protesting.
In contrast, 79 percent of Republican-identifying respondents disapproved of the players either sitting or kneeling during the national anthem. However, 60 percent would have supported the protests if they had taken the knee after the game's conclusion. Republicans also expressed an interest in seeing the protestors disciplined for their actions, with 44 percent believing that they should be booed, 56 percent believing that they should be penalized, and sixty percent believing that the NFL should require athletes to stand.
"In some cases, the negative attitudes towards the players is motivated by flat out racism, but there is more to the story," says Dr. David Frederick, an Assistant Professor of Psychology and the lead investigator in the study. "Many of our participants approved of players protesting if they did so after the game or at a press conference, rather than during the national anthem. Some people view the national anthem and flag as a symbol of their country and identity, and the protests as a sign of unpatriotic disrespect to them and to the country as a whole."
The study recruited participants via Mechanical Turk, and had 1168 participants, with 253 self-identifying as Republican or Republican-leaning, 235 as independent, and 680 as Democrat. The small sample size of Republicans in the study, especially in comparison to Democrats (22 to 58 percent), is one limitation of the study.