'Bitconnect Carlos' Meme Is Everything Wrong With Cryptocurrency Hype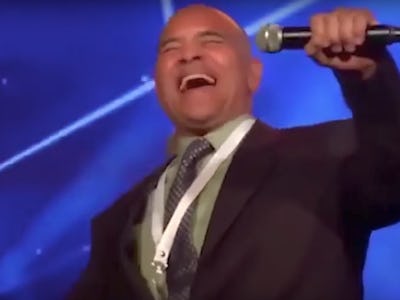 BitConnect/Placeboing
Back in October of last year, Carlos Matos was one of dozens of investors in the cryptocurrency Bitconnect invited on stage at the company's First Annual Ceremony in Thailand. There he delivered a brief, but now legendary speech in support of the BitConnect.
The BitConnect website describes it as being a, "source, peer-to-peer, community driven decentralized cryptocurrency," but it has recently come under heavy scrutiny after a massive price crash on January. It now faces allegations that the entire cryptocurrency is in fact a pyramid scheme.
But months earlier, Matos was in a jubilant mood.
"Wasssa wasssa wasssa wasssa WASSSA BITCONNEEEEEEEEEEEECT," Matos, who was introduced as a "BitConnect member," yelled at the top of his lungs. It's not entirely clear what his connection to BitConnect was — he appeared to be introduced as just an investor and supporter, rather than an employee.
Either way, his on-stage performance has become a widely spread meme, known as BitConnect Carlos, that will forever tie him to what is now being called one of the biggest scams in cryptocurrency history.
Matos' Internet infamy took off after H3H3Productions — a Youtube channel with 5.3 million subscribers that is known to crank out spicy memes — made a video blasting him that garnered over 3.5 million views.
From there, the floodgates opened and the Internet's meme-makers made quick work of cropping Matos into film scenes, remixing his speech into songs, and even creating parody Twitter accounts.
While Matos' bombastic keynote has become fresh meat for a ravenous, meme-hungry audience online, it seems like he's always been an enthusiastic speaker. On his Facebook page, he often live-streamed his non-cryptocurrency related daily life and sings his now-iconic "Hey hey heeeeeeeeeey," pretty regularly. This is a personal catchphrase that goes beyond BitConnect.
This means that Matos has always had the potential to be a hilariously wholesome Internet sensation — but attaching himself, unwittingly or not, to what appears to be a major cryptocurrency scam is always going to add an edge of infamy to his performance.
While the exact facts of the case are still under dispute, Matos's status as a living meme, one that embodies irresponsible cryptocurrency investing with his hysterical whoops and bellows, is in little doubt.