New 'Purge' Prequel Basically Says Trump Started It
So, this is how the nightmare begins.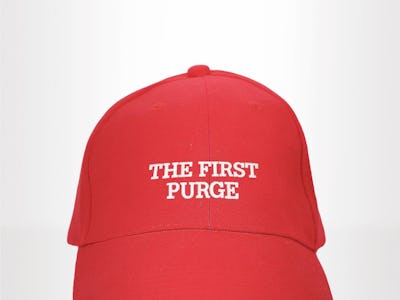 Twitter.com/UniversalHorror
Who started the Purge? Based on the poster for The First Purge, it may be someone who would describe themselves, and virtually anything else, as "tremendous." This is how the nightmare begins.
On Tuesday, Universal released the first poster for The First Purge, releasing July 4 (how subtle), the fourth film in the dystopian horror franchise about an annual twelve hours of "legal" crime. Doubling down from 2016's politically-minded The Purge: Election Year — which used the tagline "Keep America Great" — this year's Purge pretty much points to President Donald Trump, or more likely some fictional analog with similar taste in provocative, political red hats, as being responsible for the yearly rampage.
First announced as The Purge: The Island, The First Purge will be a prequel to 2013's horror hit The Purge, which followed an upper-middle-class family trying to survive the annual "Purge," in which all crime is legal for 12 hours.
Unlike Election Year, which used politics as set dressing, The First Purge has the potential to really explore income inequality in the United States, all through the framework of a violent summer horror movie.
The most important theme of The Purge that's worked out in its favor in retrospect is that the Purge is a literal manifestation of class warfare. It's been strongly suggested the Purge isn't a "purging" of repressed anger among citizens, resulting in an peaceful 364 other days of the year, but a purging of poor people. Because only the rich can afford heavy-duty security, leaving everyone who can't vulnerable to the Purge.
Despite his voters believing him to be a populist, many of Trump and the GOP's policies tend to hit low-income citizens the hardest. Before Congressional Budget Office in a 2017 report. Earlier this month, Reuters reported on Trump's plans to defund aid programs such as food stamps and housing subsidies that assist low-income citizens on acquiring basic needs.
The Purge may just be a horror movie, with a premise riffed on an old Star Trek episode. But art imitates life, and sometimes vice versa, in really scary ways.
The First Purge will be released in theaters on July 4.