The NSA Literally Removed "Honesty" From Its Core Values
The official website no longer includes the word.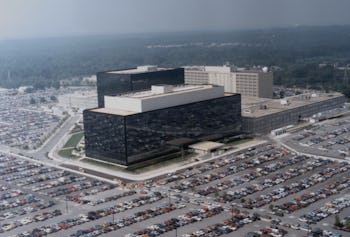 NSA
On January 12, the National Security Agency (NSA) removed "honesty" from the core values listed on its website. To replace the word, "commitment to service" "respect for people," and "accountability," have been added.
While this may seem like linguistic nitpicking, it's a bit strange for such a heavily-scrutinized government agency to drop their commitment to honesty. Ever since Edward Snowden leaked documents detailing the scope of the NSA's surveillance and data collections, it's been clear that the agency obfuscated the scale of their spying operations.
In the new core values, the closest thing to "honesty" is "transparency." Previously, the core value of "transparency" included a commitment to "transparency to the fullest extent possible." Now, it reads, "We are committed to fostering public understanding of NSA's mission and to providing complete transparency to those who authorize and oversee NSA's work on behalf of the American people."
Instead of satiating the "public's need for openness," as previously enshrined in the value of "honesty," the "transparency" value now implies that full disclosure is meant for members of the government and that the NSA's obligation to the public is more to foster an understanding of the agency's overall mission.
There is a line that's been added with the new value "respect for people." This category, however, is devoted to inclusivity for NSA personnel, not a nod to the American citizens that the agency serves.
The NSA even took out the phrase, "We never forget that we, too, are Americans."
So what happened? Did they forget? Speaking to The Intercept, NSA spokesperson Thomas Groves said, "It's nothing more than a website update, that's all it is."
The updated language came a week before the Senate reaffirmed NSA activities justified by Section 702 of the Foreign Intelligence Surveillance Act (FISA). By renewing Section 702 for six years, the Senate allowed the NSA to continue scooping up Americans' private communications if they are tangentially related to surveillance of a foreign target. Privacy advocates warned against the legislation, arguing that it puts too much unchecked power in the hands of NSA officials.
If you liked this article, check out this video where Comcast tried to ruin Colorado's internet with a video full of insane lies.