How Much Would Jerry Seinfeld's New Apartment Rent For?
Hulu's big promotion is a real estate coup.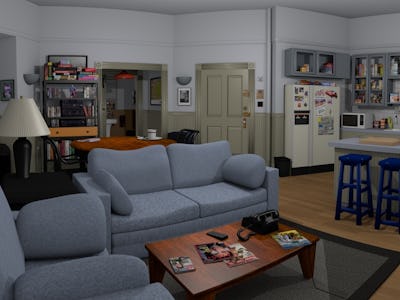 Hulu is pleased as punch about acquiring the streaming rights to Seinfeld for $160 million. To celebrate and publicize the show's arrival today (because the Internet needed more "nothing"), the service reconstructed the most iconic piece of the set, Jerry's apartment in a downtown shop window. The stunt is already blowing up big on Instagram — fans can actually go inside and press their sweaty faces against the fourth wall — but how much would it cost to live there?
It's a stupid question, sure, but if you hold an open house for a New York City apartment you can be absolutely sure that someone is going to ask it. Let's break this down:
How Big Is the Apartment?
Well, Jerry doesn't give out that piece of info on the show, but we can hazard a guess using the blueprints for sale on Touch of Modern. Given that the average mattress is roughly 80 inches long, Jerry's apartment appears (we used a ruler) to be around 750 square feet. The angular wall complicates things slightly, but we're essentially dealing with a one bed, one bath situation.
What's the Neighborhood Like?
Hulu has moved Jerry way south of his former digs on 84th Street into the hip Chelsea neighborhood where Milk Studios, which is hosting the display, pumps out hipness for big brands. Chelsea has always been a very nice, very gay neighborhood and Jerry's new proximity to the Chelsea Market makes it a particularly convenient location. He'll also have a lot of options for biking so that in-apartment rack won't go to waste.
Is It a Good Building?
Short answer: Yep. It's a nice brick number right near the high line and Google's NYC headquarters.
So, How Much Are We Talking?
The question remains complicated. One bedroom apartments in Chelsea high rises go for as much as $8,000 a month, but we're not rocking some penthouse deal here. Jerry's new apartment, given that ground floor is a bit of a liability in Manhattan (especially given the window situation) would more than likely go somewhere between $3,800 and $4,300 at current market rates.
Jerry did not pay that much on the Upper West Side in the nineties, but one gets the sense he could afford it now — thanks in no small part to Hulu.