12 Hostels That Are Even Better Than Hotels
Spend more of your money on seeing the sights while staying somewhere great.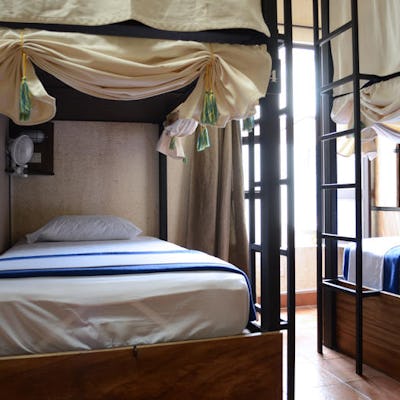 It's a common scenario: You've made a resolution to travel more in 2018, but while booking your trip, you're frozen in a state of disbelief at how quickly costs can add up. Though some expenses like airfare and meals can't be avoided, there are ways for you save on where you stay. Regular hotels can be pricey, and while Airbnb can be a more economical option, if you don't feel up to sharing a home or communicating with a foreign host, you may want to consider a hostel.
Before you say there's no way you're staying in a room with 16 prison-esque bunk beds filled with rowdy travelers and a public bathroom, you should know that hostels have come a long way in the last decade in terms of design and atmosphere. Most even offer private rooms with ensuite bathrooms, so you'll get the solitude of a hotel with the perks of having local, knowledgeable staff and plenty of chances for social interactions with other guests — should you desire that.
Based on thousands of real travelers' reviews, Hostelworld.com has announced its 2018 Hoscar (yes, that's a thing) winners. The top hostels all got high marks for staff, cleanliness, and location, but we've rounded up 12 that are even better than hotels thanks to their affordability and uniqueness. (Note: Prices have been converted to dollars and may change depending on season).
Located in the center of Kyoto City, this hostel won the Best in Japan Hoscar and came in second place for Best Large Hostel Worldwide. Reminiscent of Japan's pod hotels, the shared dorms have beds built into the walls and are stacked on top of each other with a curtain to shut for privacy. These will run you about $25 a night, but if you're traveling with a friend or a group, consider their private family rooms with an ensuite bathroom. They sleep four to six and go for less than $300. Either way, you'll still be able to enjoy the minimal, zen-like common areas and the free miso soup every day. Piecehostel.com
From the big picture to the finer details, every inch of "Guatemala's Best Hostel" is eye-catching and elegant. Whether you choose a dorm (about $15 per night) or a private room (about $75 per night), your accommodations at Cucuruchos will be beautiful, comfortable, and clean. Coffee is served all day and there's cake in the afternoon, which you can enjoy on the rooftop terrace while looking out at the mighty Volcan De Agua. And if you've had too much cake you can make use of the exercise equipment on the terrace as well. Cucuruchos Boutique Hostel
10. El Rio Hostel, Buritaca, Santa Marta, Columbia
When staying in the middle of the jungle, it's nice to have options. El Rio Hostel, voted best in Columbia and second best in Latin America, offers an assortment of accommodations ranging from a hammock (a very affordable $9 per night) to a private cabana with a queen size bed (about $40 per night). The hostel is located alongside the Buritaca River and offers a private beach and riverside bar, so it's got the perks of a resort without the price tag and pretension. They're also known to throw some popular parties with live DJs, so be prepared for a very social atmosphere. Elriohostel.com
Chicago is home to some of America's most stunning architecture, so why not stay in a restored 1920s art deco building when you visit? The Freehand, located in the bustling River North neighborhood, has accommodations that are so lovely, you'll have to remind yourself to leave the on-site cocktail bar. This hostel came in third for Best Extra Large Hostel Worldwide. Shared rooms, which go for less than $30 a night, include only four beds, as well as an ensuite bathroom. If you want to upgrade, $90 can get you a private room with a queen size bed and private bathroom, or, if you're traveling with a group, you may want to look into the two-story penthouse, which is $1,500 a night and looks to be worth every penny. Freehandhotels.com
8. Soul Kitchen, St. Petersburg, Russia
Soul Kitchen won the 2018 Hoscar for Best Facilities, and it's easy to see why. The decor is an impeccable mix of old and new, including a 19th-century stove updated for modern use and antique radios next to iMacs. Lockers and beds all come with charging stations, and the hostel offers free international landline calls. Built in 1863, the building is right on the Moyka River, and many rooms have a waterfront view. A stay in one of their eight-person dorms is less than $20 a night, while a luxury room (with private bathroom and fireplace!) is about $85. Soulkitchenhostel.com
Staying in Istanbul's Old City, Sultanahmet, means you'll be surrounded by incredible sights like the Hagia Sophia, Topkapi Palace, the Blue Mosque, and the Grand Bazaar. Staying at Cheers Hostel will provide you with a front row seat to these wonders, and their rooftop bar allows you to soak in Istanbul's famous skyline all year round. Rooms are furnished in traditional Turkish decor; a private suite with a double bed runs about $90 per night, while a bed in a 10-person dorm is about $18. And of course, Turkish bath towels are included. Cheershostel.com
6. The Madhouse, Prague, Czech Republic
If you do happen to be one of those travelers seeking to party hard and make new friends, then the Madhouse is a perfect option. Guests love it for the social atmosphere, with family dinners and beer pong tournaments hosted nightly, and group outings curated by the fun-loving staff. Structurally, the Madhouse, voted the number one hostel in the Czech Republic, is more like your typical hostel with a bed in an 8-person dorm (running about $25), but the walls are covered in graffiti and murals that take the vibe from budget to rad. Themadhouseprague.com
Have you ever wanted to stay in a hobbit hostel? Chili Kiwi Lakefront offers a double bed in their "Hobbity Hollow" room with garden views for about $65 per night, and a stay in their treehouse is just a few bucks more. Voted the Best Hostel in Latin America, this laid-back spot in central Chile is a great place for adventure seekers to unwind. It's minutes from Lake Villarrica and the snow-capped Villarrica volcano, and hostel staff will gladly set up day trips for you to either location. Chilikiwihostel.com
4. Lucky Lake Hostel, Vinkeveen, Amsterdam, Netherlands
If staying in a quirky, colorful trailer park 30 minutes from central Amsterdam sounds like your kind of vacation, you need to book a stay at the Lucky Lake Hostel. Voted the Best Hostel in the Netherlands, Lucky Lake consists of dorms, cabins, and caravans — each with a unique decor — and a slew of amenities like an outdoor kitchen, a game lounge, a lake for swimming and kayaking, and what they call "the world's smallest cinema." The rates run between about $30 to $60 a night and range from private, single-person caravans to six-person cabins with an ensuite bathroom. During 2018, they also offer "Wonderful Wednesdays" when all rooms booked in advance are only $25. Luckylake.nl
For clean and modern looking accommodations in the heart of Reykjavík, look no further than Loft HI Hostel, which has been voted Iceland's Best Hostel three years in a row. Keep in mind Reykjavík is an expensive city, so prices are comparable. A room in an 8-person dorm is about $55 per night, while a private double bed and ensuite bathroom is closer to $300. But you'll get your money's worth, especially on the rooftop terrace where you can survey the skyline and sometimes even catch a glimpse of the Northern Lights. Lofthostel.is
Located in the center of Marrakech, the Equity Point is a stunning place to stay for a peaceful and relaxing vacation. Its gorgeous interiors, including private rooms for around $80 a night and dorms for about $20, are as beautiful as the building itself, which has a pool in the courtyard and a rooftop terrace. If you're feeling indulgent, there's also a spa within the hostel. And if you're feeling hungry, they offer traditional Moroccan cooking classes so you can take a piece of Marrakech back home with you. Equity-point.com
A cozy hostel with old world charm, Stone City is located in the heart of historic Gjirokaster, just steps from the bazaar, and was voted Albania's Best Hostel. Guests are welcomed into a beautiful garden and once inside, the stone-walled rooms and rooftop terrace offer breathtaking views of the nearby castle and hillsides. A private double room is only $34 per night, and a bed in a 10-person dorm is $13. Stonecityhostel.com