Will the 'Shape of Water' Plagiarism Accusation Hold Water?
This whole thing seems a bit fishy.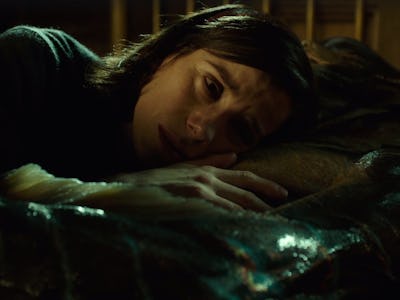 Fox Searchlight Pictures
Days after picking up an almost record-breaking 13 Oscar nominations, Guillermo del Toro's The Shape of Water has been slapped with allegations of plagiary by the son of a deceased playwright.
On Friday, The Guardian published a statement from David Zindel — son of Pulitzer-winning playwright Paul Zindel — claiming that The Shape of Water unfairly adapted its story from his father's work. Specifically, Zindel believes that del Toro's film borrows from the play Let Me Hear You Whisper.
To be fair, in both stories, a female janitor at a government facility falls in love with some kind of aquatic creature being subjected to experimentation. In one case, the creature is a talking dolphin that despises warfare. In another, it's a fuckable magical fish man.
So does that seem similar enough for a legitimate plagiary scandal?
"We are shocked that a major studio could make a film so obviously derived from my late father's work without anyone recognizing it and coming to us for the rights," David Zindel wrote in his statement.
In The Shape of Water, Sally Hawkins's mute night janitor works at a secret government facility in the '60s when she encounters a humanoid fish creature with strange powers and a great deal of intelligence. Within weeks, he's able to learn sign language and communicate with her, enough that they're able to escape the facility.
Let Me Hear You Whisper, originally a play written in 1969 that aired in 1990 as a TV series, does bear some other striking similarities.
The janitors earn the trust of their creatures by giving them food. They also dance in front of fish tanks with a mop. Both creatures come under the threat of vivisection — specifically — and escape with help from their janitor in a laundry cart. The janitor's friend from the lab also assists in both case.
Many say there's almost too much in common, despite Guillermo del Toro's claim that he wrote The Shape of Water as an original story with Vanessa Taylor after coming up with the idea while talking with novelist Daniel Kraus.
Fox Searchlight's formal response to the allegations on Thursday reiterates as much:
"Guillermo del Toro has never read nor seen Mr. Zindel's play in any form. Mr. del Toro has had a 25-year career during which he has made 10 feature films and has always been very open about acknowledging his influences. If the Zindel family has questions about this original work we welcome a conversation with them."
The Shape of Water was recently nominated for 13 Oscars total, including Best Picture, Best Director, and — interestingly enough — Best Original Screenplay. So these plagiary complaints seem awfully timely.
This sort of thing kind of happens a lot within genre fiction.
In 2015, writer Peter Gallagher filed a $10 million lawsuit against Joss Whedon and Lionsgate, claiming that The Cabin in the Woods (2012) — a meta black comedy satirizing its own tired brand of horror — stole material from a 2006 self-published novel called The Little White Trip: A Night in the Pines. Both stories involve a group of college-aged kids assailed by murderous forces at a cabin in the woods, who ultimately realize their plight is being filmed, albeit for very different reasons.
The case was dismissed several months later, with U.S. District Judge Otis D. Wright II ruling that the base premise was ubiquitous in horror, and the difference in tone and conclusion of these stories was enough to belay suspicions of plagiarism:
"The works may both have a core theme of horror, but Cabin's core of horror is spliced with heavy amounts of comedy and parody. Indeed, the way each work plays out is drastically different than the other, as is the way they develop their core themes and how they provide commentary."
Good call, Your Honor.
Back in 2000, even Harry Potter J.K. Rowling had to endure a plagiary claim from a woman named Nancy K. Stouffer. She believed that Rowling stole from her 1984 book The Legend of Rah and Muggles, which included a character named "Larry Potter." The use of "muggle" in both is remarkable, as is the hilarious inclusion of Harry's long-lost uncle Larry.
Stouffer, as it turns out, submitted fraudulent evidence to the court to support her claim and wound up having to pay a fine of $50,000.
Perhaps we'd do best to consider the greater context of measured success in these many cases, and to keep in mind the immortal words of Judy Corman, a spokeswoman for Scholastic that commented on Rowling's scandal in 2000:
"Unfortunately, success often leads to frivolous claims, and we're confident the court will find in our favor."
Are you starting to see the pattern here?
The Shape of Water is now in theaters, and the Oscars will air March 4, 2018.