George Soros Just Declared Facebook and Google's "Days are Numbered"
A highly critical stance on social networks.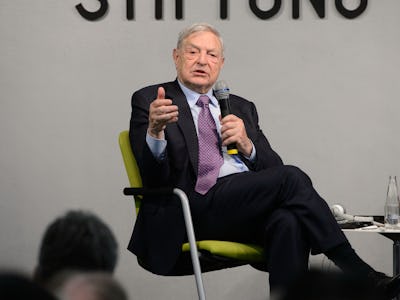 Flickr / boellstiftung
Billionaire investor George Soros held no punches regarding social media companies during his speech at the World Economic Forum in Davos on Thursday. The philanthropist declared businesses such as Facebook and Google's "days are numbered" and that they have become a "menace" and "obstacles of innovation" to society.
Soros compared these tech giants to mining and oil companies. While those "exploit the physical environment," he said, "social media companies exploit the social environment," according to a transcript of his address.
He went on to explain that social media platforms will tell you that they are simple disseminating information from the people, but they subtly insert their own commercial interests into everything they do.
"Social media companies deceive their users by manipulating their attention and directing it towards their own commercial purposes," stated Soros. "They deliberately engineer addiction to the services they provide."
Finally, he warned listeners of a "more alarming prospect" that could become a reality if companies like Facebook and Google continue to have unregulated access to billions of people's personal information.
If these companies were to collude with the national government surveillance efforts, "This may well result in a web of totalitarian control the likes of which not even Aldous Huxley or George Orwell could have imagined," he said, referring to the authors of the dystopian Brave New World and Nineteen Eighty-Four, respectively.
While tech companies already do turn over some data to the U.S. government, there are even more straightforward examples of this potential danger becoming a reality in countries like the Philippines.
Soros called on authorities to crack down on the unchecked power that these companies for the good of humanity because, "the internet monopolies have neither the will nor the inclination to protect society against the consequences of their actions."
This isn't the first high-profile businessperson that has taken a critical stance against internet giants. On Tuesday, Salesforce CEO Marc Benioff told CNBC that he believes Facebook should be regulated like tobacco companies. Roger McNamee, who actually was an early investor in Facebook, was cited as saying Facebook and Google were a threat to public health.
Facebook and Google have not responded to these criticism, but the spotlight is set firmly on these companies after this series of public slams.