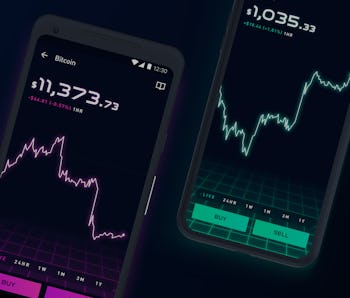 Innovation
Bitcoin, Ethereum, More Cryptocurrency Added to Free Trading App Robinhood
A new cryptocurrency exchange option.
Robinhood
The stock brokerage app Robinhood announced Thursday that it is the latest service to get into the cryptocurrency game. But unlike, say, Long Island Ice Tea, KFC, or Kodak, the trading app's embrace of the blockchain could be much more than a curio for bitcoin enthusiasts.
"Robinhood is the only brokerage app to offer stock and crypto trading under one platform," a spokesperson tells Inverse.
Founded in 2013, the app offers commission-free stock trading in an effort to increase access to the market for those who would otherwise be put off by exorbitant fees. The site offers to aim the same for a variety of cryptocurrencies with the newly launched Robinhood Crypto feature.
The site currently offers a signup for early access, with visitors able to add themselves to the rapidly growing waitlist to try out the new features.
The full set of options will become available to users in February, which will include the ability to trade bitcoin and Ethereum. Robinhood also says it plans to add more coins for trading in future.
Beyond the ability to trade stocks and cryptocurrency side by side, Robinhood's signature feature of commission-free trading could make it an appealing option for those interested in bitcoin. Even Coinbase, the most popular online cryptocurrency exchange, struggles with high transactions fees. Any significant reduction in those fees could make Robinhood an appealing option.
Starting Thursday, users will be able to add 16 cryptocurrencies to their watchlists, allowing them to monitor the latest news and price information for those coins alongside the stocks they are interested in.
The listed cryptocurrencies are bitcoin, Ethereum, Bitcoin Cash, Litecoin, Ripple, Ethereum Classic, Zcash, Monero, Dash, Stellar, Qtum, Bitcoin Gold, OmiseGo, NEO, Lisk, and everyone's old favorite, Dogecoin.
The rollout for trading will be gradual, according to Robinhood, with bitcoin and Ethereum trading first set to be available in California, Massachusetts, Missouri, Montana, and New Hampshire. The site says further updates will be available in February, and the eventual form of Robinhood Crypto will also evolve in response to initial feedback from users on what works and what doesn't.
Robinhood touts itself as the fastest growing brokerage ever, with more than three million users and $100 billion in total transaction volume.